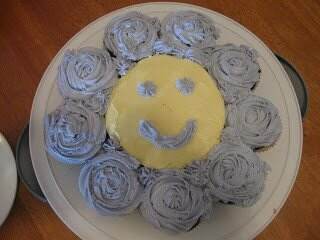 This is not going to be a long post. In fact, it could almost have been a "wordless Wednesday" post. This is the flower cake I made for my daughter's 3rd birthday a couple weeks ago.
     This cake was not that difficult. I'm all about not making things too difficult.

So, K wanted "a big flower" cake, which is what you see here.
     For the center, I used a 5 inch round pan and iced it yellow. The petals are just purple iced cupcakes. I added a smiley face for good measure. You could use any color combination you like, of course.
     And in case you're curious, I used "devils food" as the cake.