The Mustache Pacifier!
     If you have a little guy who loves his paci, here is something you may be interested in. It is a  mustache pacifier called the Mustachifier from FCTRY. This has to be one of the cutest things ever! It is cute, stylish and makes for a unique baby gift! 
     It took my little hipster baby no time at all to try out his new paci. And he figured out pretty quick there was something different about it. When we were around other people, he would stand and look at someone until they noticed him, exclaimed about his mustache and then he would walk the other direction with a pleased smile. In other words, he was showing off!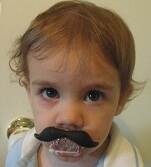 There are 3 different styles of the mustachifier, and the one we got to try out was "The Gentleman." There is also the "The Cowboy" and the "The Ladies Man." The mustache part of the mustachifier is a rubbery, teething material. The pacifier is BPA free, has a silicone nipple and natural orthodontic shape. It even comes with a sanitary snap-on cap for when your little one isn't showing off his mustache.
     This would make a really cute baby gift for parents of a new baby boy. The mustachifier is sure to turn heads! Soon after we got ours, we went to the mall and "N" was wearing it while sitting in his stroller. I can't tell you how many "awes", smiles and people nudging each other over it.
     Either way, the mustache pacifier is sure to be a hit! By the way, you can also follow Mustachifier on facebook and twitter! And there is a sweepstakes on their facebook page where you can win a set of all 3 mustachifiers. Check it out!
I received one or more of the products mentioned above for free for evaluation purposes as well as financial compensation. However, all opinions expressed are still 100% my own. I am disclosing this in accordance with the Federal Trade Commissions 16, CFR part 255 Guides Concerning the Use of Endorsements and Testimonials in Advertising. Please see my full disclosure policy HERE.