I received a 1 once bottle of Stevia Select powder for my honest review. All opinions are my own. Affiliate links are included and do not affect your cost in any way, should you choose to purchase through my link.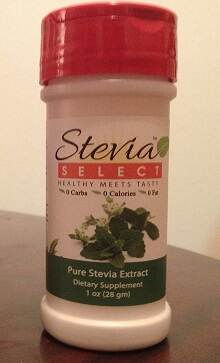 I have been trying to use stevia more in my drinks and baking lately since trying to become sugar free (0r at least use sugar). The problem is that it's really hard to find stevia that tastes decent and doesn't have any fillers.
One of the very few exceptions I've found is Stevia Select. But before I go any further, it's important to know that stevia does take some taste bud adjustment, no matter how good the stevia is. You can't expect it to taste just like sugar. However, some stevias definitely have a less bitter taste than others. And Stevia Select is one of those, in my opinion.
Now, what I've discovered is that I like plain stevia ok in drinks, but for food and baking, I prefer to use a blend of stevia, xylitol and erythritol. Many people don't mind the flavor of just stevia in their sweets and baked goods, but I'm just not quite there yet. As I said, I use a blend and right now Stevia Select is an important part of that blend.
Stevia is extremely sweet, so a little goes a long way. Stevia Select includes a tiny little spoon that is about 1/32 tsp, which you would use in place of 1 tsp sugar.
I've been using the powdered stevia, but Stevia Select also makes liquid stevia, flavored stevia drops and flavored water drops. Their stevia is sourced from South America and is available on the Stevia Select website and on Amazon.
Sign up for their newsletter and get a $2 off coupon and free recipe booklet!