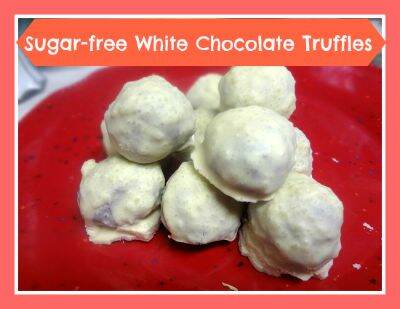 Repin this recipe for later!
So, the latest challenge I've had was to make sugar free "Oreo" truffles. I've actually been meaning to try these for some time, but it was when I saw someone ask about making a version compatible with Trim, Healthy Mama, I decided to go ahead and get it done. Sometimes I just need a little push. 😉 If you don't know what truffles I'm talking about, these chocolate ghosts use the same recipe. 
White chocolate can be tricky to make and it's not going to be exactly like commercial white chocolate  which is full of sugar and other off-plan ingredients. Real white chocolate is made with cocoa butter, but sometimes the stuff called white chocolate doesn't even have that. But, I digress.
Obviously, these are not going to taste exactly the same, but I think they give a fair representation. They would be an "S" on Trim Healthy Mama. And this is what they look like inside. 
Chocolate Filling
1 cup almond flour
3 TBSP cocoa powder
1/4 cup gentle sweet (find my homemade blend here)
1 TBSP butter, softened
4 oz cream cheese, softened
1 tsp vanilla
pinch of salt
White Chocolate
4 oz cocoa butter–you really need to measure on a kitchen scale
1/4 cup cream

sweetener to taste–This can be tricky. I used 1/4 cup gentle sweet substitute, but this caused the chocolate to end up slightly on the grainy side. I'm thinking stevia would work better for texture, but will taste more like stevia. If using stevia only, I'd try 1/16 tsp to start with.
*Note* I previously had protein powder instead of cream in the white chocolate mixture. Using cream and vanilla creme liquid stevia made the white chocolate a smoother texture.
I recommend you start making the white chocolate first, because it takes a while to get it ready to pour.
Measure out the cocoa butter and chop into small chunks. The smaller the chunks the faster they will melt. Place them into a glass bowl that can be set into a metal pot with water.
Heat up the metal pot with the bowl inside until the cocoa butter is melted. Remove the bowl from the pot and add the cream and sweetener. Put it aside to cool and make the chocolate mixture.
The chocolate mixture is pretty straight forward and easy. Just mix together all the ingredients until it looks like this.
Roll the mixture into small balls and place on a cookie sheet lined with wax paper.
Put the balls in the fridge until the white chocolate is ready. It should look and pour like melted white chocolate. You may even put it in the fridge for a few minutes to speed the process. But don't leave it too long, as you don't want it to solidify in the bowl.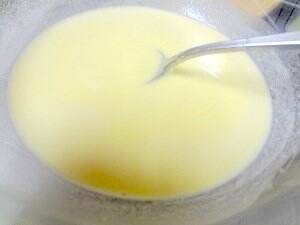 Using a spoon, pour the white chocolate over the cookie balls.The refrigerate overnight, or at least a couple hours. If you have "puddles" like in the pic below, you can trim after it hardens a bit and save the extras as white chocolate chips. Yum!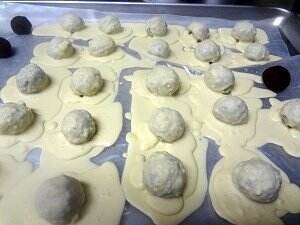 Now, what should I attempt next?