Action Baby Toddler Carrier

"Wear" Your Bigger Baby with the Action Baby Toddler Carrier!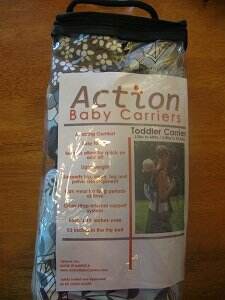 I know a lot of people like to carry their babies. And babies like to be carried. It promotes bonding and closeness between mother and child and gives Mommy an extra work-out. 😉 
     My son son likes to be held a lot more than my daughter did at this age (17 months). The problem is, it is hard to find a carrier that holds a baby heavier than 24 lbs. That's why I was excited to find the Action Baby Toddler Carrier.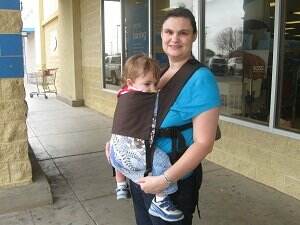 The Action baby Toddler Carrier is designed to hold children up to 45 lbs and can be worn on the front or back. But the best part is your child can have the comfort of being with you, while leaving you hands-free and able to get things done.
     When my son sees me with the carrier, he smiles and comes to me. When I pick him up, he tucks his little arms in and gets comfortable! Then he's just as happy as can be riding around like a little joey!
    When I first tried the pack on (with the straps straight down) it kind of rubbed my lower back in a way I didn't like. But then I re-read the instructions and figured out I was supposed to wear the straps criss-crossed across my back and it was much more comfortable.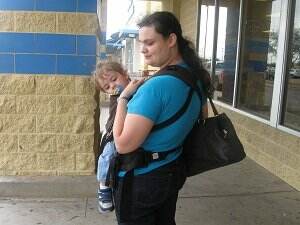 If you want to carry the child on your back, there is a strap you can put across your chest and then you would have the straps straight down.The place where you click the straps to the seat of the carrier are low enough that you can put it together by clicking with one hand, while you hold your baby with the other arm. 
     I am really happy with this carrier so far and I know my son loves it! And of course K wants to get in it too, now that she sees her brother in it. The carrier comes in a variety of adorable designs. I got the Canyon Toddler design.
     Action Baby was started in 2006 by Angela Alexander, a mom who wanted to make creative gifts for her new mom friends. It is comfortable, reasonably priced, stylish and made in the USA. And it can hold toddlers up to 40lbs! By the way, through 8-8-13, you can get 10% off with code aoh8w1habc9 and free shipping in the continental US!
     Connect with Action Baby! 
*Website
*Facebook
*Google+
*I received one or more of the products mentioned above for free for evaluation purposes. However, all opinions expressed are still 100% my own. I am disclosing this in accordance with the Federal Trade Commissions 16, CFR part 255 Guides Concerning the Use of Endorsements and Testimonials in Advertising. Please see my full disclosure policy HERE.*