What Every New Mom Needs–But Doesn't Think to Ask For
Baby Shower Gift Ideas
 This post was written in partnership with Eleventh Avenue and compensation was received in the form of product, cash, or gift cards. All opinions are mine.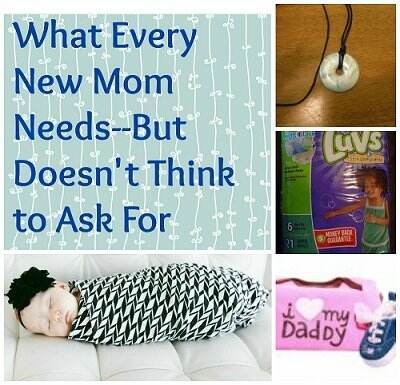 If you are about to be a new mom, or if you are shopping for one, I'd like to point out a few things to consider when doing your baby shopping. These are things that don't always make it onto baby registries, but they generally prove to be useful gifts!
So, take a break from the run-of-the-mill registry of baby shoes, pacifiers and baby lotion and check out this list of baby shower gift ideas.
1. Clothes in size 9 months, 12 months, or higher. I've been part of several baby showers, and what I noticed is most of the clothes people get for the baby are 3 months, 6 months, and even newborn. Odds are, mom already has the few newborn basics she will need, and baby will outgrow them pretty quick. And you really don't need 15-20 different outfits in a size, or you will find yourself struggling to have baby wear them all before outgrowing them. But few people think to buy clothes larger than 6 months.
2. Practical clothing. This kinda goes along with number 1, but different issue. While I love an adorable ruffle dress or two, I want most of my baby clothes to be comfortable, every day stuff. A pack of onesies and matching cotton pants, are great, or a super cute but comfy (cotton) outfit. All in 9 months and up, of course. 😉 Oh, and if you get an outfit, make sure it has a onesie top, as opposed to a T-shirt, so it doesn't ride up. And if you opt for sleepers (another great choice!) the ones with zippers instead of snaps are much easier for busy mommies!
3. Baby Tylenol and/or gripe water. Diaper cream is pretty standard baby shower fare, but you might not need a ton. I have one tube I'm still working on and my baby is 9 months. Baby Tylenol will almost certainly be used (unless you are opposed to using a baby fever reducer) and can save Dad (or Mom) a trip to the store when Baby gets a fever. And gripe water is great for tummy troubles. Pair it with a nice temporal thermometer for a great gift!
4. Teething/nursing necklace. Once babies get old enough to grab (which will not be long at all) they grab everything they can. And babies love grabbing jewelry. Teething necklaces are safe for baby to chew on, and even before they're teething, it gives them something to hold while nursing.
5. Size 2 and 3 diapers. Kind of like the clothes thing, everyone gets the smaller sizes. Diaper cakes are usually made out of size 1's. Unless she's planning to cloth diaper. In which case a couple diapers for her stash will be greatly appreciated!
6. A good swaddling blanket or two. Okay, swaddling blankets are a common baby registry item. But what a new mom may not realize, is the swaddling blankets sold by several popular baby brands are too small! This makes it too easy for baby to squirm out, which means upset baby! Make sure you get a generously sized one, like the newly released Captain SillyPants Swaddles, available exclusively at Eleventh Avenue. 
Captain SillyPants Swaddles are nicely sized at 48″x48″, made of 100% organic cotton, extra soft fabric and are available in many adorable designs! It's a great gift for an upcoming baby shower, or for your own baby. Today is the start of their limited-time pre-order sale at Eleventh Avenue, where you can get them for nearly half off their retail price. All pre-orders will ship by April 30th.
What are your mom must-haves?