Boba Wrap Newborn Carrier
Boba Wrap–Great for Baby Wearing!
Even though I just had my third baby (who is now a month old, believe it or not!) I didn't have a carrier I felt was appropriate for "wearing" a newborn. Baby wearing was not something I really thought about until my son (now 2 1/2) was going into toddlerhood and capable of sitting up and even walking.
Since I really wanted to try baby wearing this time around, I asked some of my more experienced friends what kind of carrier was best, and I was told several times wraps are best for very young babies. And Boba is one of the best brands out there!
Boba sent me one of their wraps to try out. The Boba Wrap does take some getting used to. There is a bit of a learning curve with learning to put the wrap on correctly. There are videos that can help you on the Boba website.
Here I am with my little one at just a couple weeks old. She is sleeping in this pic because she is so comfortable! I know it looks a little awkward since I have her head covered by the wrap, but otherwise her head would not be supported like it needs to be, since she can't really hold it up herself. The most important thing is to make sure her face isn't covered and her airway is clear.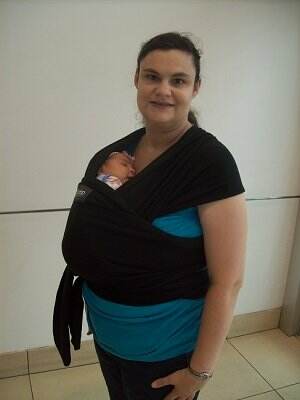 There are many benefits to baby wearing. Some (from the Boba website) include less crying, and being healthier, more independent, feeling secure, sleeping better and having a better view of the world.
The benefits for mom are great too. You get to hold your baby and be hands-free at the same time. You can do things around the house like fold laundry or interact with older children without having to stop to tend to a crying baby. Don't forget the extra calories you will burn while also building your core strength!
If I have to go grocery shopping by myself with all 3 kids, the Boba Wrap will be a necessity, because the infant car seat would take up the whole shopping cart, not to mention preventing the shopping cart child seats from opening all the way for the older kids.
With the Boba Wrap, I can wear my youngest while the 2 and 4 year old sit in the seats ( our shopping carts can seat 2) and still actually have room for groceries!  Same thing goes for our double stroller. My 4 year old still can't manage a trip to the mall without sitting in the stroller some.
Whether you are a first time parent, or third time parent, the Boba Wrap can definitely be a useful tool. For me personally, it will be easier to do activities with my 2 and 4 year old, besides helping me build my strength.
Boba has other great baby carriers too! By the way, have you checked out the Boba giveaway I just posted? There will be three winners!
 Connect with the Boba family! 
 website * facebook * twitter * pinterest * Google+ * instagram
Have you tried/are you interested baby wearing? I'd love to know any thoughts or tips you might have!