Citrus Lane (September '13 Box)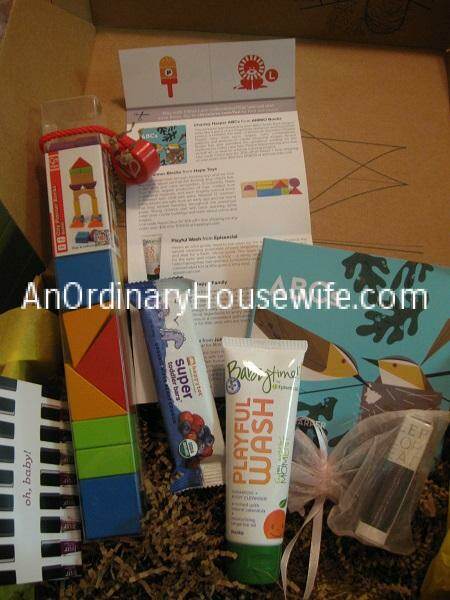 Have you tried Citrus Lane yet? I always enjoy my boxes when I get them. I know it's past mid-October and I'm just now posting, but I still felt I needed to share!
Just a rundown for those who are not familiar with Citrus Lane, it is a subscription box with children's products. There are usually 4-5 products in each box, including snacks and toys and maybe a personal care item (maybe even a gift for mom!).
Here is what was in the September box:
Hape Blocks–My kids love building blocks and Hape makes some good quality used toys. This set of colorful blocks was a great addition to our other blocks. It has been noted, however, that some of the pieces are chocking hazards.
Charley Harper ABC's Book–Charley Harper is a well-known children's book author. I have never owned one of his books. The illustrations are kind of modernistic, which isn't really my taste, but te kids still like it.
Episential Playful Wash–This body wash is made of naturally derived ingredients and is good for kids of ages, including babies.
Happy Tot Super Toddler Bar–This is sort of like a crispy rice bar with blueberry flavors. My son like cereal bars and he likes blueberries, so of course he liked this.
Julep Nail Polish–Occasionally they also send a gift for Mom and this was what they sent this month.
If you are interested in trying a box for yourself, check out the Citrus Lane website.
Have you ever tried Citrus Lane? I'd love to hear your thoughts on it!