Fun Friday: My Baker's Box
Cooking with Kids Using My Baker's Box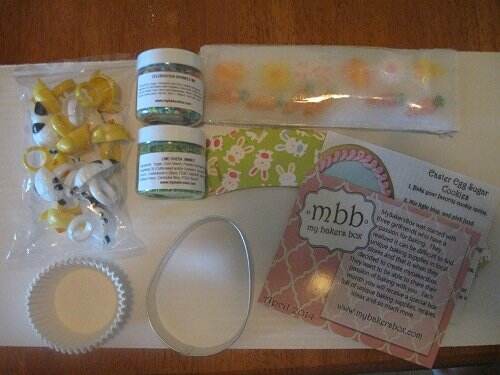 If you like to bake, but sometimes need a little inspiration, My Baker's Box is here to help you find it. MyBaker's Box is also a handy tool for cooking with kids, since it comes with everything you need to decorate.
My Baker's Box is a subscription service that sends you baking supplies each month to help keep you inspired. You will get things such as cookie cutters, cupcake covers, sprinkles, edible decorations and more. You may even get a recipe.
My Baker's Box was kind enough to send me one of their boxes so I could test it out with my kids. My kids were really excited to see the decorations and couldn't wait to get started. Since it was the April box, we received supplies for making Easter cookies and cupcakes.
I decided to do carrot cake for our cupcake project. You know, since it was Easter themed and the Easter bunny eats carrots. 😉 Here, my daughter is stirring the dough. She's always so excited when I let her help me bake.

Once the cupcakes were nicely baked and iced, the kids had lots of fun decorating the cupcakes with the chick and lamb rings and sprinkles that came with My Baker's Box.

Here are some of our finished products. Of course, the kids favorite part was eating them!

We've had so many sweets and candy lately that we haven't had a chance to make the sugar cookies yet, but I know my kids will love that as well. We will finally get to use the beautiful icing decorations that came with the box.
My Baker's Box would also make a neat gift for someone who enjoys baking. Do you know a mom who likes making fun baked goods? Mother's Day is coming up! Also makes a great birthday gift, perhaps for a child interested in baking?
Join the fun at My Baker's Box and get inspired!
website * facebook * Pinterest * Google +