Custom Kitchen Cabinets with RM Kitchens
This house is brought to you in partnership with RM Kitchens.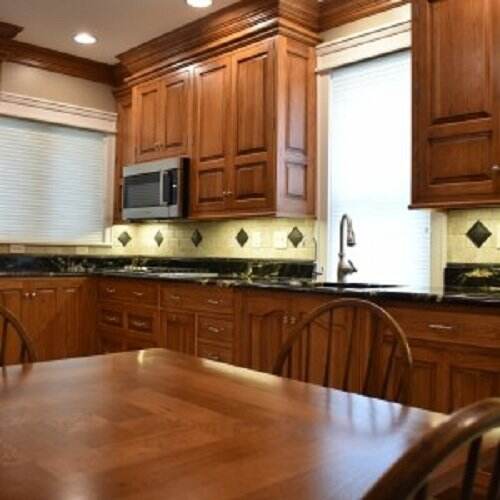 We purchased our first house about a year and a half ago, and while I love the house in many ways, I feel like the kitchen and bathrooms are in serious need of an update. In fact, if you want to give a house a fresh look, the best way to do it is to give the kitchen and bathrooms some new countertops and cabinets.
Our house was built in 1955. Since we've moved in, we have replaced the refrigerator and kitchen sink and added a dishwasher. A dishwasher was high on my priority list and the previous owner didn't have one. So we've got a couple of updated appliances in our kitchen, but it is still a good ways off from being where I'd like it. I would love to get a new countertop and maybe some custom kitchen cabinets. Our kitchen is functional and practical right now, so I can't really complain, but, ideally, I would like to do a little more updating to the kitchen!
R.M. Kitchens offers beautiful custom cabinets for your kitchen and bathroom. Their cabinets are made in the USA and can be shipped nationwide. If you happen to live in central PA, you can visit their showroom or take advantage of their construction and remodeling service. Get a personalized consultation with one of their expert designers in person or by phone to plan the kitchen or bathroom of your dreams!
If you want to some examples of the beautiful work RM Kitchens does, check out their photo gallery. And I really love that they don't outsource–all of their products are made in the USA. This ensures the best quality for their work.
Are you ready to design the kitchen of your dreams?