Deluxe Diaper Cake Tutorial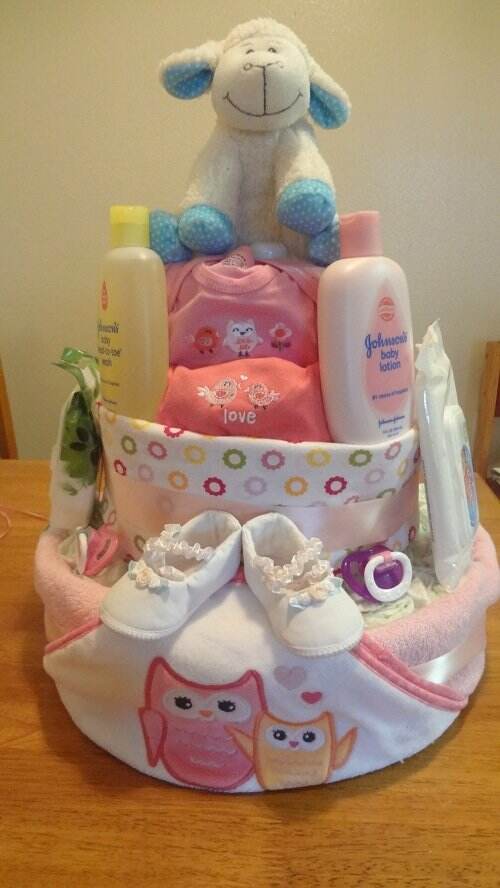 Diaper cakes are all the rage lately. They can be a great shower gift and give you lots of opportunity to express your creativity and make a unique gift. You can make your diaper cake using items from the recipient's registry (diapers are always on a registry) or just get basic things that every baby needs, like wipes, baby wash and diaper cream!
You may have seen my post on how to make a basic diaper cake, but this one is a little bigger and a little more fancy. The diapers themselves are less visible, since they are covered up with other goodies, like receiving blankets and towels.
First of all, you want to roll up your diapers and tie them. For an easier option, you can purchase tiny rubber bands in the hair section at Walmart. The clear ones blend in more, but the colored ones are less expensive and they should be covered by the ribbon on the finished diaper cake.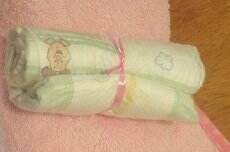 I also put a container of wipes in the bottom layer of my diaper cake. Surround the wipes container with the rolled up diapers to form a circle.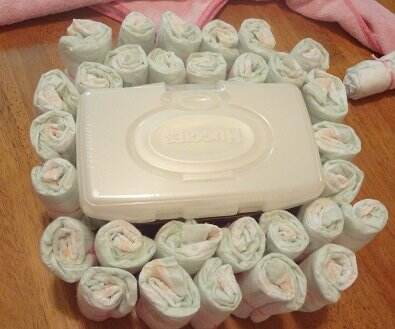 Surrounding the bottom layer, I also used a hooded towel. I placed the towel face down with the hooded point farthest from me. I folded the towel up until it was about the height of the rolled diapers.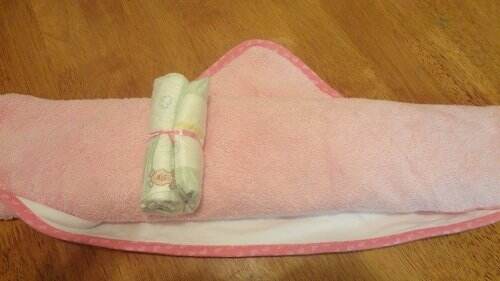 I carefully wrapped the towel around the base and tied it with a string. Make sure the hood part up the towel doesn't get tied in. That will go over the string/ribbon later (as you can see in the top of the post).
Stuff as many more diapers as you can into the bottom layer. Stuff them until you cannot get another one in! You want to be able to lift the base without it coming apart.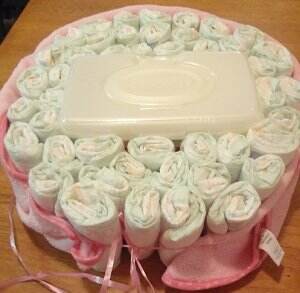 The second layer I did pretty much the same thing, except I put a baby bottle in the middle. The top half will be pretty much concealed with the third layer. To surround the second layer, I used a receiving blanket folded up and tied around the layer.
As in the bottom layer, stuff as many more diapers in as you can. You could also use onesies, burp cloths or receiving blankets, as long as they are the same height.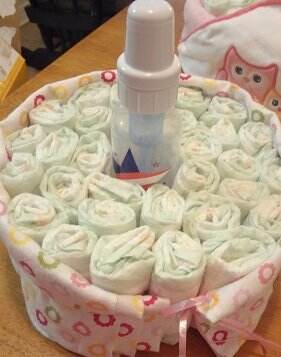 The third layer I decorated with onesies. These were 0-3 months and I folded them in thirds. Just like with the hooded towel, I leave the top part of the onesie to go over the string/ribbon.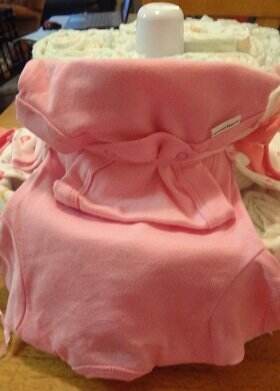 Once the cake is assembled, decorate it with items of your choice. You can use baby wash, pacifiers, diaper cream, shoes, teethers, washcloths and stuffed animals.