Fun Friday: Downtown Disney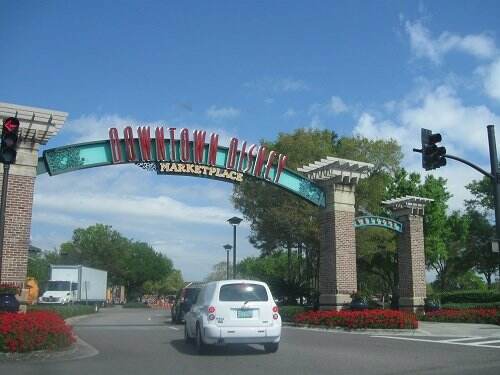 One thing we got to do when we were in Florida was go to Downtown Disney. We didn't go to the actual Disney parks this time, for a few reason, but we wanted our kids to get a little bit of the Disney experience.
Downtown Disney is free to get in, but there are plenty of ways to spend money once you get in there, as it is mostly shopping and dining. But if you have little ones, there is plenty of entertainment to be had for free as well.
Our first stop was the Lego store. They have a couple of tables where kids can stand and build with Legos. They even have a table or two of Duplos for the younger kids.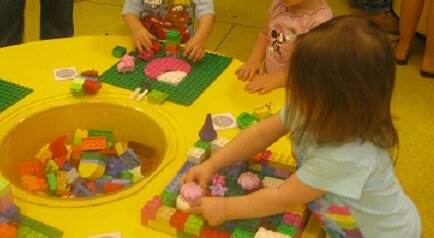 In the Once Upon a Toy store, there is a table where kids can play with Potato Heads. You can also buy them, by filling up a box with parts. Tip: Only fill your box with the unique parts you get at Downtown Disney and buy the basic Potato Head at Walmart or Target.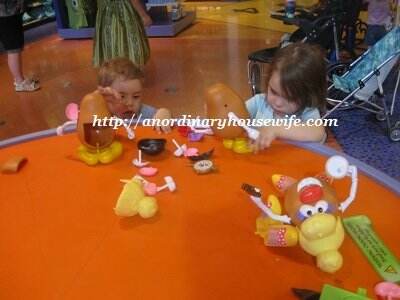 Of course, what's a trip to Downtown Disney without Goofy's Candy co? You can get all kinds of treats and goodies here, like caramel apples, fudge and Mickey Mouse shaped rice krispy treats.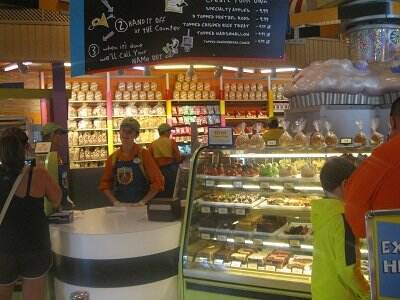 Make sure you stop by the Ghirardelli shop before you go–they'll give you a free square of chocolate! There is also a Ghirardelli ice cream and soda shop.
The World of Disney store has just about every Disney item you can imagine. They even have a Bibidi Bobidi Boutique where your little girl can get a princess makeover. And of course, all sorts of "Mickey" hats.
We mainly stayed in the Marketplace section of Downtown Disney, as that is the most kid friendly section. If you have the time and energy, you can also venture into Pleasure Island and West Side for attractions like Disney Quest and Cirque de Soleil, but those attractions are not free.
Have you ever been to Downtown Disney? What is your favorite part?