Fun Friday: Owl Halloween Decorations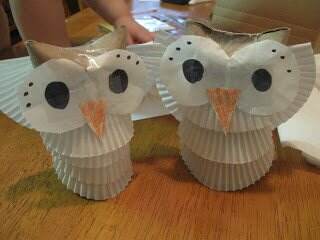 We made these super cute owl crafts this fall. All you need is a toilet paper tube, a few cupcake papers and some tape. And they make super-cute Halloween decorations!
First thing you'll need to do is fold in and tape down the middles of the the top of the tube, like so: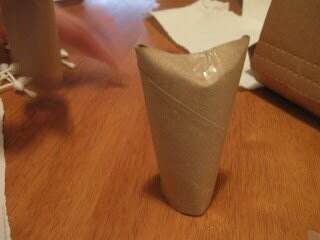 Then cut a cupcake paper in half. Trim to make the wings at more of an angle if you like.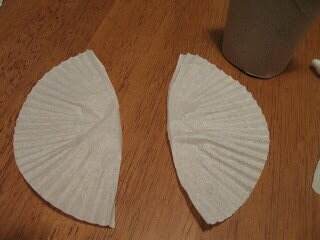 Tape or glue the 2 halves on the back as seen in the pic below. These are the wings.

Fold 2 more cupcake papers in half and cut out the non-ridged part. You should have 2 circles when unfolded. Cut the ridged "ring" in half. Then tape/glue the ridged section to the tube. Do this with 2 or 3 more pieces.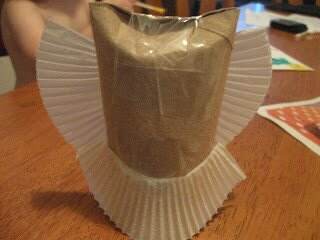 Then with a black marker, draw circles in the circles you cut out in the previous step. These are the eyes.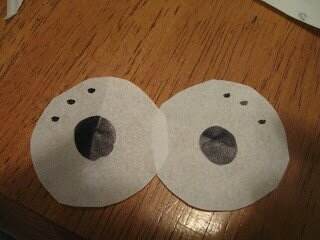 Tape/glue the eyes onto the body, leaving enough space to see the "ears." Cut a small triangle for the beak out of paper or cardstock, or do what I did–use a scrap from trimming the "wings" earlier and color it orange. Then attach it like so: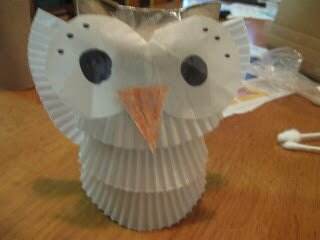 And there you have it. Cute little owls. You can use different colors of cupcake papers, or paint spots and decorate. You can use these to decorate your house for fall, or Halloween, or maybe if your kid has a Harry Potter themed party.
You can hang them from the ceiling with a string or perch them in a small "tree" made from a branch from your yard.