Fun Friday: Read Around the House Treasure Hunt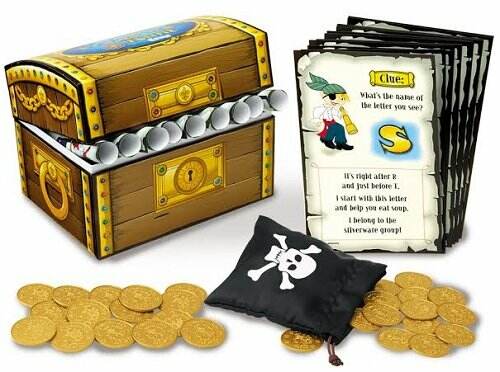 If you are looking for gifts that are both fun and educational, Lakeshore Learning has an awesome selection. I have tried out several of their toys so far and my kids have loved all of them. There are a lot of other toys on the Lakeshore Learning site that I have yet to try out that also look great.
Lakeshore Learning most recently sent me the Read Around the House Treasure Hunt Game. My kids have been into "pirates" and "treasure" lately, so I knew this game would be right up my daughter's alley!
Like most of the Lakeshore Learning games, Read around the house is both fun and educational. The game is set up like a wild goose chase, where finding a clue leads you to the next clue, until you find the treasure. There is a clue for each letter of the alphabet, but you don't have to play with them all at once.
The Read Around the House Treasure Hunt Game teaches letter recognition, builds rhyming skills and requires logic! Here's an example of a clue:
It's just before N and right after L.
I start with this letter–that's a big clue
I'm in the bathroom.
Look at me to see you!
The answer is "mirror" which starts with "M." And that's where the next clue would be hidden.
My daughter really had a blast with this game and couldn't wait to play it again. My son is a little young for the game itself, but he liked playing with the "treasure."
The Read Around the House Treasure Hunt Game is only one of many great toys available at Lakeshore Learning. It is also great resource for homeschooling and other education products. And they also gave me a 20% off coupon to share with my readers! It expires 12/31/14.
Connect with Lakeshore Learning: *Website*Facebook*Twitter*Pinterest*YouTube