Fun Friday: Whimsy Blocks and Jungle waterfall from eBeanstalk
*I purchased these toys with a credit I received for a previous post for eBeanstalk. All opinions expressed are my own.*
After much anticipation, we finally got our new toys from eBeanstalk. eBeanstalk has all kinds of awesome toys that help children learn and build skills without even realizing it. It is an awesome resource for parents!
You can check out my post about the company, but right now I'm just going to tell you about the awesome toys we got: Wooden Whimsey Blocks and the Jungle Waterfall bath toy.

The Wooden Whimsey Blocks are bright, colorful blocks that allow children to use their imaginations. These aren't your normal rectangle blocks, though there is nothing wrong with those. Actually, these can be added to your regular blocks to dress up your buildings with fun designs and shapes!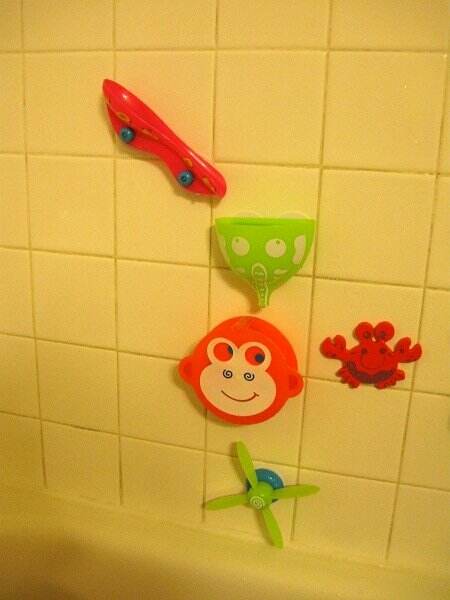 But what my 3 year was especially excited about, and had to wait all the way till bath time to play with, was the Jungle Waterfall!
This 5 piece set (including the pouring cup not in this pic) uses suction cups to stick the pieces on the wall. (The crab next to it is not part of this set!) There is a little gutter-like piece, the elephant is a funnel, the monkey's eyes spin when water hits hits head (due to the water wheel inside) and finally the propellers that also spin when water hits.
My kids had a blast with this, and K didn't want to get out of the bath when it was time. N seemed most interested in the cup, so I gave K another cup to play with the wall pieces. Great for water play! Warning: This could be a fight-provoking toy!
You can get these and lots of other fun and educational toys at eBeanstalk. And don't forget to check out the giveaway for $25 gift card from eBeanstalk!