3 Home Automation Technologies That Make Life Easier for Parents
This is a sponsored post. 
Home Technology for Parents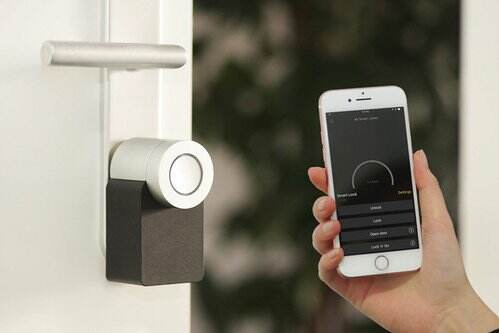 Parents appreciate technology that makes life easier. Automation, in particular, lets them make their homes safer and more comfortable while reducing hassles.
Room and Motion Sensors Help Keep Track of Curious Kids
Even the most dedicated parents can't see where their kids are at all times. Fortunately, automation technology could help fill the void. For example, motion and door sensors give parents notifications if their kids go places they shouldn't while around the house or try to gain access to areas that have toxic chemicals, breakable items, or other potential dangers.
There are also trackers that can tell parents where their kids are at any given time and provide alerts if they go outside of defined zones. Those are particularly useful when kids are old enough to enjoy independent playtime but still can't be trusted to wander too far away on their own.
Operate Lights, Set Temperatures, and More
Many automation systems sync with apps, letting people control them from afar. For example, a mom could turn off the light in her sleeping child's room without having to go into it and risk waking the youngster up. Alternatively, it's possible to turn on lights before a school-aged child gets home for the day, making an empty residence safer and not so intimidating.
There are home automation systems related to temperature control, too. If parents know their toddler is happiest in a room set to a certain temperature, they can use a smart thermostat to keep the environment constant. HVAC installation specialists can set up systems to make them suitable for household needs. Some automation systems that link in with an air conditioner or heater may also provide maintenance and servicing reminders, making it less likely that the system would need an emergency repair.
Because the home's temperature also plays a role in how people feel, an automated thermostat could be used to keep people more content. Some systems even learn residents' habits and automatically adjust accordingly. An HVAC expert can provide valuable assistance while people set up their smart homes with the latest automation options. It's also wise to schedule an appointment for HVAC service during that time to make sure everything's working as it should.
Some home automation systems have air quality sensors that can switch on appliances such as air purifiers when the conditions in a room reach a certain level. Homeowners can make their homes healthier places without even thinking about it.
Lock or Unlock Doors as Needed
Some automation possibilities are perfect for parents because they can lock or unlock doors even when no one's home. If a family leaves for vacation and can't remember if they locked the front door, an app that coincides with a smart lock could let them secure the premises from afar. There are also smart doorbells that enable you to see who's on the front porch, then unlock the door without getting up from the couch.
These are just some of the many ways parents can automate their homes to simplify life. After they get used to them, their lifestyles might never be the same, and they'll certainly be more convenient.
*Image via Flickr by Nuki Smart Lock