Make it Monday: Basic Diaper Cake
How to Make a Diaper Cake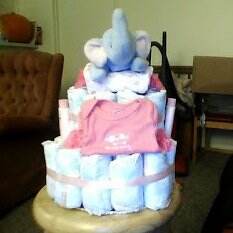 Making a diaper cake can be fun and allow you to express your creativity. Here is the first diaper cake I ever made. It's not as elaborate as some of the diaper cakes I've seen, but I think it turned out alright for my first try. You can make a basic 2-tier diaper cake for about $10-15 (more or less) depending on how many extra "goodies" you stick on it. 
     The first thing I did was make a "cake board" which is just a circle of cardboard covered with aluminum foil. You can use wrapping paper or just purchase a cake board if you prefer, but I couldn't really see it when I was done anyway. Next I rolled up diapers with the edge in and tied them closed with yarn. You can also use rubber bands if you have enough. Or I have seen some where thin ribbon was used.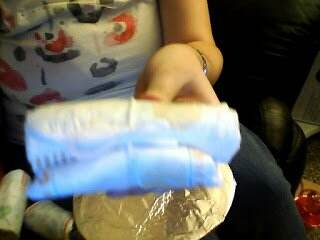 I ended up using 24 rolled up diapers for the bottom tier and 14 for the top tier. Next I placed the rolls of the bottom tier on the cake plate and tied a piece or white yard around the group. I ended up stuffing more diapers in to make the string taut. Like I said, the bottom tier ended up being 24 diapers.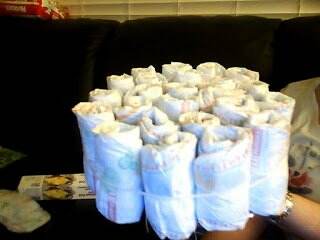 Next I did the same thing with less diapers for the top tier and ended up with 14. You can stick other things instead of diapers in the middle, like a bottle, packet of wipes, baby bath or rolled up onesies or burp cloths. It all depends on how much you want to spend and how elaborate you want to go. I didn't put any "extras" in the middle this time. 
     Next, I took two pieces of pink ribbon (since it is for a little girl) and covered up the yarn tying the diapers together with a drop of superglue on the ends of the ribbon. I added a rolled up onesie and a small stuffed animal for a "topper" and folded a second onesie and set it on top of the bottom layer, leaning against the top layer.
    Finally I stuck on a couple of small bottles of baby lotion on the ribbon of the top tier and made some little pink roses out of pink crepe paper and stuck them around some of the edges. You can see them in the above picture, but the pic below is a side view and you may see them better. You could also just buy some artificial (or real) flowers for this purpose, or simply use ribbons or other things for decoration.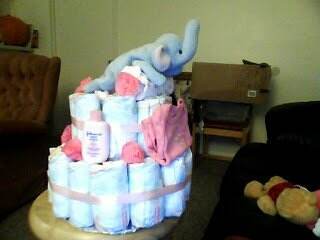 So anyway, that's basically what I did. I just thought it was a really neat way to dress up what is basically a pack of diapers. And you can buy diapers on sale with coupons and sales and get them pretty cheap. I didn't even use the whole pack on my cake and I used 2 onesies out of a pack of 5. So I have some to use for another diaper cake later. 
Have you ever made a diaper cake?