Is a Thrive Marketplace Membership for You?
This post contains affiliate links. If you purchase a membership, I will receive compensation. All opinions are mine.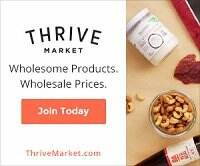 If you follow the natural/organic/paleo scene at all, you may have heard of a new online natural food store called Thrive Marketplace. After I got invited to partner with them, it seemed I was seeing it promoted on every natural/paleo food blog I follow. So chances are, you've heard of it by this point.
Well, I tried it out for a couple months and I did find some great buys with my free trial. The free shipping (for orders over $49) is pretty cool too. But rather than just talk about how wonderful a Thrive Marketplace membership is and why you need to have one, I just want to say, take everything into consideration.
First of all, lets go over the pros.
The hugest benefit is, no doubt, the discount on the products themselves. A couple products I looked at, the savings was nearly 50%. I'm going on Amazon pricing here, since that would normally be where I'd go if I can't find it at the local natural food store.
Just a few price differences of things I purchased off of Thrive
Coconut Secret Raw Coconut Nectar, 12 oz
Amazon: $11.25   Thrive: $5.95
Wedderspoon Raw Manuka Honey 12+, 11.5 oz
Amazon: $30.97   Thrive: $22.95
La Tourangelle Avacado Oil, 250 ml
Amazon: $9.99   Thrive: $9.45
Secondly, Thrive offers free shipping on orders over $49. It's not really that hard to come up with $50 worth of products you can use.
Now for the other side of the equasion.
There is a membership fee. It's about $60 a year, which equates to about $5 a month. Which doesn't seem too bad, if you will use it enough. But it doesn't let you pay for it monthly. This is really where you have to determine if it's worth it to you. If you normally spend a lot on the products that are available on Thrive, the price savings might do more than just equal out for you.
Secondly, the selection is not as big as some other online retailers. This is another big thing for me.
A third thing is you can't browse unless you have a membership. I find this really annoying personally. But you can sign up for free initially. Just make sure you do all your browsing while you've got the chance.
So, a Thrive membership might be worth it if you buy a lot of things that happen to be available on Thrive. I'm not sure I buy enough to merit it myself. But you should definitely take advantage of the good deals you can get during a free month trial. I got 2 different shipments in my free trial. Those were a great deal. 
Sign up here for a free trial.