Fun Friday: Ivy Kids September Box
Ivy Kids Subscription Box: Shapes
Ever since I was introduced to the Ivy Kids subscription box, I've felt it was a really great educational resource for kids. If you haven't heard of Ivy Kids, it is a fairly new subscription box service. The July box was their first!  The activities are fun and engaging and always come with a theme!

I purchased the September box and I think it's my favorite one so far. This box featured shapes and colors. There were not as many craft type activities as in previous boxes, but there were a lot of activities that can be reused and m kids, aged 4 and 2 both loved the shapes activities.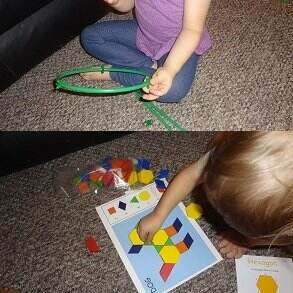 Each Ivy Kids box features a book to add to your child's library. September's book was a board book called "Color Zoo" by Lois Ehlert. This book was not so much of a story, but showed different animals made out of basic shapes like circles, squares and triangles.
I was able to use this book as a teaching tool for both my kids. I had my 4 year old determine what the animals were, with the help of pointing out the letter sounds. I asked my 2 year old to identify the shapes.
There was a bag of wooden shapes included. I'm so glad they were wooden shapes. I was afraid they would be the cheaper foam shapes that are about the same size. Most of the activities in the September box used the wooden shapes. There were shape picture cards, letter cards and even a couple of games. There were also a couple of collage pictures with foam shapes. We were supposed to glue them to the picture, but I decided not to, so we could reuse them.



Ivy Kids boxes are fun, educational, and provide a great way for you to have fun and engage with your child. And the materials are all included, so all you have to do is open up and play!
New subscribers can get 20% off their first kit suing code IVY20.
Check out Ivy Kids for more info!
website * facebook *twitter * pinterest * Google+