Make it Monday: Decorated Cans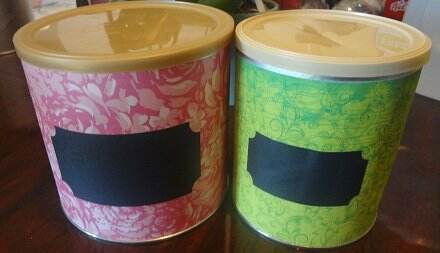 These decorated cans are cute and easy to make and they are made from reusable items How cool is that? They would also make a cute way to give a gift or share homemade cookies or candies this season!
All you need is an empty coffee or formula can, patterned scrapbook paper and glue or tape! I also added chalkboard labels from Kidecals to mine, but that's not necessary.
The process is so simple it almost doesn't merit a blog post. But I thought it was such a cute idea and I wanted to share it before the holidays because I thought it might be useful for someone.
First, remove the labels from the cans. Measure the perimeter and height of the can. Cut the scrapbook paper according to your measurements, leaving an extra 1/4 inch or so to overlap and glue.
Generously glue with a glue stick on the back of the paper and glue to the canister.
Now it is ready to use!