Think About it Thursday: The Marriage Restoration Project
How to Improve your Marriage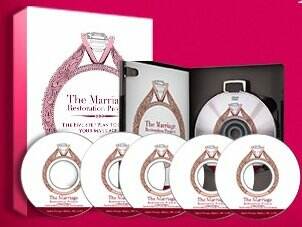 Divorce rates are higher than ever among today's society, and I find that really sad. My husband and I went into our marriage with the idea it is for life and not just something we could back out of if it "didn't work out." Of all the couples we've known with marriage issues, their problems could essentially be boiled down to a failure of one or both parties to put one another first.
I was recently asked to read a book called The Marriage Restoration Project and to share my thoughts on it. The author, Rabbi Shlomo Slatkin, MS, LCPC, sent me a complimentary copy of the book in hopes I would find some information that would be useful to my readers.
The Marriage Restoration Project is a five step plan aimed at repairing a marriage in danger and has some great tips on how to improve your marriage. I will share the very basic gist of each step, but for full effect, you really ought to read the book.
Step 1–Commit. You must say to yourself "I am willing to do whatever it takes to save my marriage." Consider ending your marriage as "off the table." There are many aspects to this and most of your problems will not be solved if you walk away–in fact, it will create more.
Step 2–Seal your Exits. Any behavior you engage it that helps you avoid communication with your spouse is an "exit." Exits can include work, TV, eating, housework, reading, "venting" to your friends/family or, in a worst case scenario, infidelity. Many of these things are not bad in and of themselves, but if you use them as an escape from communication, it becomes a problem.
Step 3–Detox your marriage. This chapter addresses things like verbal abuse and anger and focuses on eliminating blame, shame and criticism and changing the way you approach a disagreement.
Step 4–Acknowledge the "Other." This is where you work to understand the perspective of the other person. You will need to make sure it is a good time to talk and when you do talk, avoid giving unsolicited advice or glossing over your spouse's feelings.
Step 5–Love Infusions. This chapter covers things like expressing appreciation, date night and doing things to show your spouse you love them.
Rabbi Shlomo Slatkin is a licensed professional counselor and teacher and holds a master's degree in counseling psychology. 
The Marriage Restoration Project also has CD's, a DVD and workbook for in depth study and the program has some good marriage tips, whether your marriage is suffering or not. You can also get some good tips by signing up for their newsletter and you get the first 2 chapters of the book free!
 Check out the Marriage Restoration Project website and their Google+ page for more info.
Could your marriage benefit from a program like this?