Milk and Baby Kangaroo Care Shirt
Milk and Baby Kangaroo Care Shirt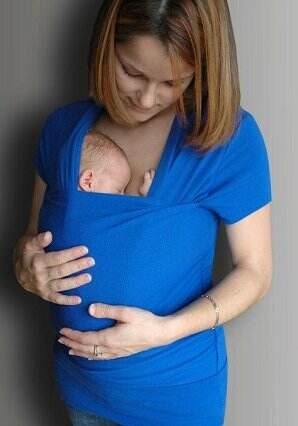 Have you ever heard of "Kangaroo Care"? You may have heard it mentioned as something that encourages bonding with your newborn and possibly milk supply. Kangaroo care is holding your baby close in skin to skin contact. 
Milk and Baby sent me one of their skin-to-skin kangaroo shirts. The primary purpose of the shirt is to facilitate skin-to-skin contact with your baby, but that's not all it's good for!
This shirt is also a baby carrier. You can just place your newborn (up to 15 lbs) in your shirt and walk around and go about your business. It is very handy for going out. So far I have gone shopping, eaten in a restaurant and just walked around the house, all while carrying the baby in my shirt. I got lots of "aww, look at the baby" comments too. 🙂 Most of the time Lil K was sleeping, but she was always happy!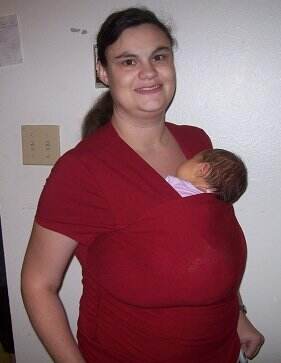 Of course the Kangaroo Care shirt is also a nursing shirt. The front pouch pulls down for nursing access.

Thirdly, when there is no baby in the shirt, it is a flattering, tummy cinching shirt. I actually got a few compliments from people who had no idea the shirt also doubles as a carrier.
In short, I really like this shirt and my daughter loves being in it because she's close to me. I think every new mom should have at least one. It looks nice enough to wear to church or "out" and it makes for a comfortable, happy, non-fussy baby!
The Skin-to-Skin Kangaroo shirt is not the only thing offered at Milk and Baby. They have maternity and nursing shirts, labor/delivery gowns and even pump bags! And the kangaroo shirt is also (affiliate link–>) available on Amazon!

*UPDATE* April 2018. It's been 3 1/2 years since I first posted this review. Now I have an 8 week old baby and these shirts are so handy I've purchased 2 new ones myself! I get so many compliments and it's so much more convenient than a wrap. Here is a newer pic from my instagram showing my favorite shirt with baby! Don't forget, they are available in a variety of colors and sizes here!
We are a participant in the Amazon Services LLC Associates Program, an affiliate advertising program designed to provide a means for us to earn fees by linking to Amazon.com and affiliated sites.