Momzelle Nursing Shirts

If you are breastfeeding, you will probably want to get some good nursing shirts. For me, a "good" nursing shirt means comfortable and looks reasonably attractive, especially with jeans. Like this shirt I got from Momzelle.
Momzelle is a Canadian company started by Christine Poirier and her brother after Christine created her own nursing top. Since then, they've added new styles and now they have a whole collection of cute nursing tops and dresses.
Momzelle sent me one of their nursing shirts to try out with my little one. I really like blue, so I thought this Rose V-neck shirt would be just right for me. I got the "Ocean" color and I really love the color!
I know the shirt looks a little wrinkled here. This is straight out of the package, before I ever wore it. The flap opens up for nursing, but otherwise it just looks like a cute T-shirt!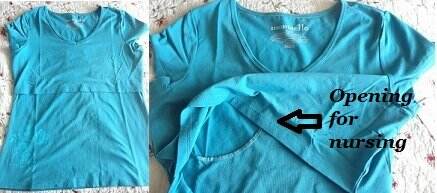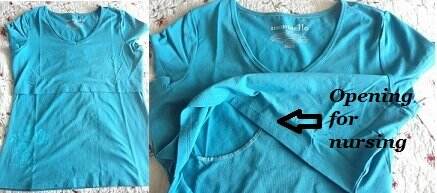 Here is a picture of me wearing the shirt. I know it's kind of a weird angle–my mom was sitting when she took this pic.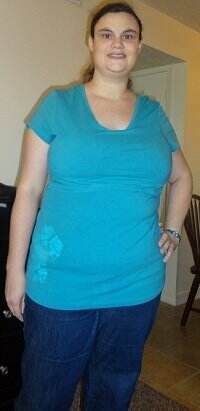 This has been my go-to nursing shirt since I got it, as long as it's been washed. It's comfortable, I like the color and style and it's pretty easy to nurse in. I don't know what else you could ask for in a nursing shirt.
Momzelle has other great shirt styles as well as nursing dresses and nursing tanks.
If you're in Canada, you can visit Momzelle here. If you're in the US you can visit Momzelle here. Both sites are having a 40% sale off select nursing tops, through August 21.
You can also follow on: facebook * twitter * pinterest