Nut and Bolt Educational Activity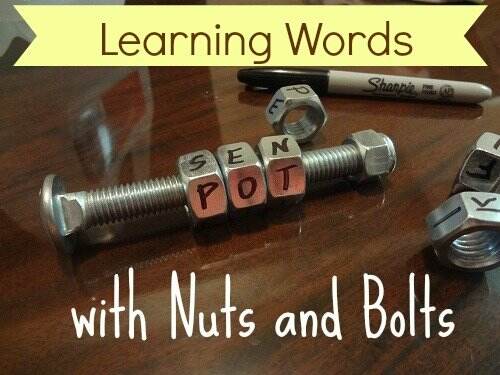 This is a fun a different way to keep you kids busy and get them interested in spelling/vocabulary. My 5-year-old has been having great fun with this new activity, trying out the different letter combinations.
To make this activity, you need a carriage bolt, end nut, some hex nuts and a Sharpie. You can get the nuts and bolts at the hardware store for less than $10.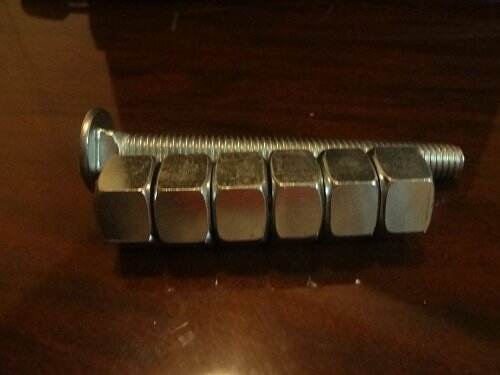 It is really simple to make. Just write different letters on each of the hexes. It would probably be best to come up with a few letter combinations ahead of time. Right now we are working on 3 letter words like cat, sat, rat, pot, cot, fit…you get the idea. You can add more hexes for longer words.
A fun game for older kids would be to try seeing how many word combinations they can come up with from the given hexes or unscrambling a word.
For younger kids, you could have them move the first letter hex to see rhyming words (fit, sit, pit) then try changing the vowels.Use this as an opportunity to teach vocabulary by asking what each word means, and point out the combinations that aren't real words (sen, fet, fot).
Another added bonus is kids can practice fine motor skills with this activity. My daughter really liked putting the nuts on herself and asking me "what that word was." Of course, a lot of times they weren't real words!
My 3 year old also wanted to play with the nuts and bolts. He is not quite ready for the actual word part though. I think when that time comes he will really be interested in this activity!
I'd love do know what fun and unique ideas you use with your own children. Comment below if you have an idea to share!