Make It Monday: Personalized Mugs
Personalized Mugs DIY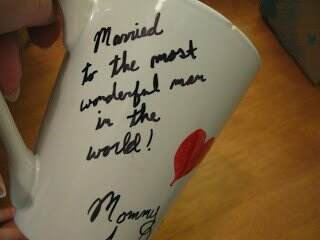 So, appearantly you can take a sharpie, write on a white (or any solid color) mug, bake it at 350 degrees for 30 minutes and it will stay. Don't touch with anything until it is completely cool! Cheap and easy gift for that hard-to-shop-for person on your list!
     You can see I had some fun with a white mug I got at the dollar store and a sharpie, which you can also get at the dollar store. The cheap-o markers might work, but I wouldn't risk it.
     Some things worth noting are:
     Put your mugs in a baking pan or sheet so you don't touch the actual cup when removing it from the oven. It will smudge if you touch the hot ink with an oven mitt.
     Hand wash only. You might want to note this if giving as a gift. I didn't try the dishwasher, but have heard it does not hold up well.
     Writing seems to hold up well. Solids, like the heart and snowman hat pictured below, are more prone to smudging, especially if you rub hard.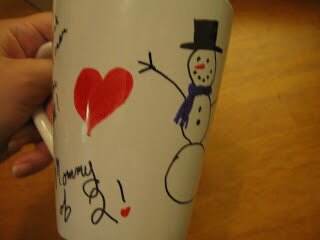 Tie a nice little ribbon around the handle and you got a nice, inexpensive, personalized gift.
     Ideas for what to put in it: small bag of coffee, chai mix, individual tea bags, hot chocolate packets or homemade hot chocolate and marshmallows.