Make it Monday: PostPartum Mama Gift
New Mom Gift Idea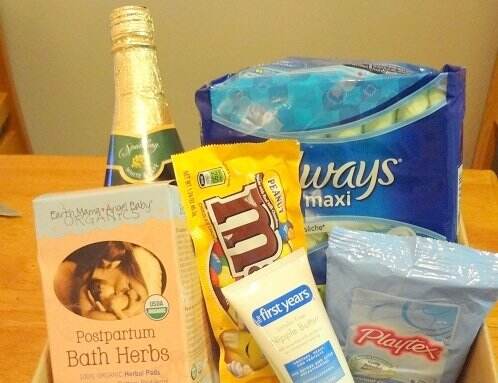 If you are pregnant with your first child, there are a few things you will need after the birth. If you've had a baby before,  you will know what I'm talking about. If you have a close friend or family member who is expecting, this little package is a great new mom gift.
*Guys, you may not want to continue reading!
Some of these things are not so glamorous, but necessary, and not always something first time moms realize they will need. A couple are just for fun.
 Sanitary Pads. One of the not so pretty things about childbirth is the bleeding afterwards. I won't go into anymore detail, but trust me–you'll want some of these.
Flushable wipes. A travel package is good to have on hand for when you need to go out and about and don't necessarily want to tote the handy-dandy squirt bottle the hospital gives you.
Post-partum bath herbs. These are nice to add to your "sitz baths" as the herbs have some healing and soothing qualities. I used the ones from Earth Mama Angel Baby, as they have some great natural/organic products.
 Nipple Cream. If you're planning on breastfeeding you will probably need some of this, at least until you and your baby get into your groove.
Sparkling Grape Juice. Okay, this one's not a necessity, but a nice treat. And besides, you'll want to celebrate the arrival of your new little miracle, right?
Chocolate. Mama deserves a reward after all that hard work. Don't you agree? Besides, we can't have this basket be all practical stuff. So if you know what her favorite treat is, go ahead and throw it in there!
If mom-to-be is into lotions and such, add a nice little bottle.
What would you add to the box?