Fun Friday: STEM Sink or Float Review

My daughter just turned four, which means she is at the "preschool" stage. Like many kids, she loves hands-on learning. So preschool science activities are something she gets excited about. And my 2 year old wants to do whatever his sister is doing. Lakeshore Learning has a wonderful inventory of educational toys that are fun for kids while teaching them important skills.
We received the STEM Sink or Float Science Station to try out. The kit teaches kids about, well, things that sink and float. Kids can experiment to see what will make the boat sink. The set also comes with guide cards for discussion to encourage the child to think and observe.
It's a good thing 2 boats are included with the kit, because both kids wanted one. I happened to have 2 small plastic tubs the same size and gave them each filled halfway with water. There was a towel placed underneath for protection!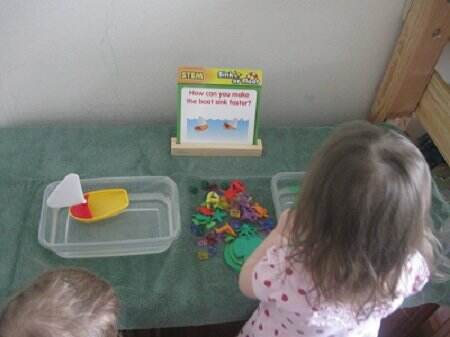 The kids were really just fascinated with the sea creatures and frogs. And the pretty rocks. My youngest was really most interested in seeing how many objects he could put in the water. K was a little more methodical, though.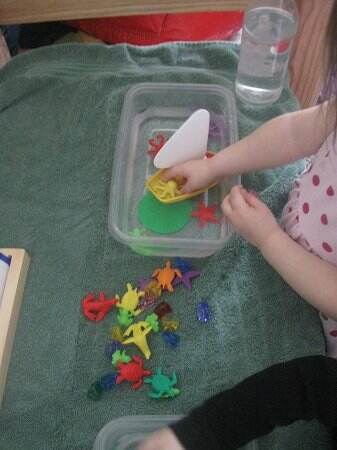 The Sink or Float Science Station is one of 3 science stations offered by STEM. The others teach about magnets and motion. You can get the set and have a complete preschool science center.
Lakeshore Learning has long been known for quality education materials for teachers and now their Winter Indoor Fun collection is made to get kids excited about learning. And you can get 20% off your purchase with this coupon.
Connect with Lakeshore Learning: *Website*Facebook*Twitter*Pinterest*YouTube
I received one or more of the products mentioned above for free for evaluation purposes. However, all opinions expressed are still 100% my own. I am disclosing this in accordance with the Federal Trade Commissions 16, CFR part 255 Guides Concerning the Use of Endorsements and Testimonials in Advertising. Please see my full disclosure policy HERE.