Rock N Learn: Ready For School Review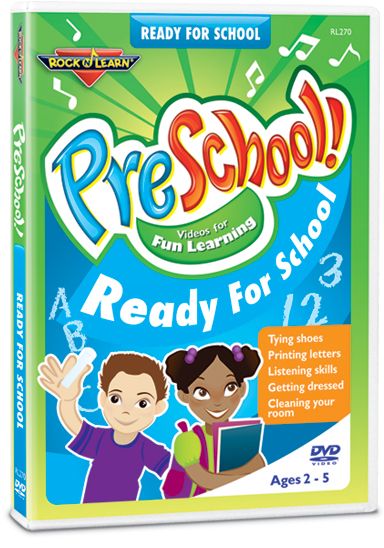 I recently got the opportunity, through Karma Media to review a Rock N Learn DVD. I had heard about these DVDs from other bloggers and thought it sounded interesting, so I was really hoping I would get selected to review one. And much to my luck, I did get to review one.
     The DVD I received was the "Ready For School" one. Although all the videos looked compelling, this one seemed like the most unique in what it covers. The Rock N Learn series includes other DVDs on colors, letters and numbers, which I'm sure are all great in their own way, but there are other educational DVDs that teach similar concepts.
     The "Ready for School" DVD actually teaches more "practical" skills for school readiness, like getting dressed, cleaning your room, cutting paper and drawing lines and curves (in preparation for writing). It also goes over letters and shapes.
     There are songs to go along with most of the activities and they will probably get stuck in your head. I suppose that is why it is called Rock N Learn. The music has an 80's, synthesizer sound to it, in my opinion.
     As an adult, I don't find the program that exciting. However, it is not meant for me. My 2 1/2 year old daughter, who it is meant for, finds it very compelling. She gets excited about it and wants to go along with whatever they are doing. She cannot yet tie her shoe, but she likes to play with a shoe and try while they are doing the shoe-tieing sequence. And she will ask for a piece of paper when they are drawing lines and curves. And the video gives me an idea of what skills are age-appropriate for my child. Here she is with her new DVD:



     This was my experience with Rock N Learn. My daughter seems to be very motivated by this DVD, and I was inclined to look for another one. The Ready for School Rock N Learn DVDs are currently available at Sam's Club stores, but will only be available until the end of the month. The DVDs are $7.98 at our Sam's Club. They did not have the alphabet one when I looked, so I haven't gotten a second one yet.
     When my daughter has some sight words and letters down, I would like to try the beginning phonics DVD. That is just slightly more advanced (for ages 3-5).
     To find out more about Rock N Learn, or see some of their other products, visit their website or check them out on facebook and twitter. And don't forget to check them out next time you visit Sam's Club!

*I received this product through Karma Media in exchange for my honest review. All opinions are my own.*
Here are some Rock N Learn reviews from other great Karma Media members!