Safety Tips for Car Seats Every Parent Should Know
This post is a partnership with Nakturnal.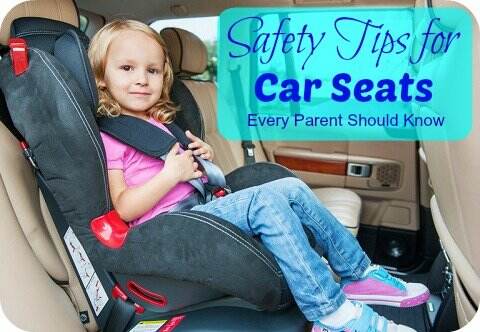 Anyone who travels with children knows that a car seats are a necessary part of it. It's not a "personal parenting choice" like other baby gear items, like cribs and strollers. It's the law. In fact, many hospitals won't even let you leave with your newborn unless it's in a car seat.
Car seats were made to make your vehicle safer for your child. But unless the seat is used correctly, it can't do the job it was designed to do.
Here are a few safety tips for car seats every parent should know:
1. Use the right kind of car seat. Taking into consideration your child's age and weight, make sure you know which seat is right for your child. Putting your child in a car or booster seat they are not ready for can put your child at risk in the event of a crash–or even if you have to "slam on your brakes." Many car seat brands, such as Graco, offer convertible car seats and booster seats that are made to grow with your child.
2. Make sure your car seat is installed properly. This involves a couple of different factors. First, you need to make sure the straps are in the correct position for your child's height and weight. The chest clip needs to be at armpit level and the straps should be properly tightened. If you are able to pinch the strap between your fingers, it is not tight enough.

Then, the car seat needs to be installed into the car correctly. This means the seat needs to be correctly anchored and with infant seats, you may need to check the angle to make sure the seat is properly reclined. If you are in doubt as to whether or not you installed the seat correctly, you can find a child seat inspection station to help you make sure the seat is installed correctly. Many places will do this for free.
3. Don't use expired or used car seats. Did you know car seats have expiration dates?  They are good for about 5 years, after which time the straps can weaken and crack, making them unsafe. You should also use care when considering a used car seat, unless you are familiar with its history. If a car seat has been in a crash, it should not be used again. You can also check to make sure the car seat is not on the car seat recall list.
4. Remove bulky coats before strapping children in. Did you know those puffy winter jackets could be dangerous in a car crash? This is because the material compresses on impact. Read more about the dangers of winter coats and car seats and put your child's coat on backwards after they are strapped in, or use a blanket.
5. Never leave your child alone in the car. This should go without saying, yet every year children die from being left in the car. This is not the first time I've given my opinion about children being left in the car, yet it continues to happen. Don't walk away from your car with a child in it!
Bonus tip: Don't text and drive. This is not a "car seat" tip per se, but this is good advice no matter who is in the car with you! I hate when someone is not paying attention because they're too busy looking at their phone. It's especially upsetting when there are young children in the car, but it really puts everyone around the car in danger too.
Do you have any car seat safety tips to add to the list?
Save
Save
Save
Save
Save
Save
Save