Success Stories from The Stork OTC
I am a Stork OTC Ambassador. All opinions are my own."

Yes, I'm repeating the following disclaimers again, because I feel like they're still relevant and need to be said.
This post touches on topics of a personal nature, and may be uncomfortable or inappropriate for a small segment of readers, with mention of pregnancy and intimacy. I won't get too graphic, but my pre-married self might have been squeamish. So here's your warning to turn back now!

I am in no way trying to paint myself as sharing the exact same struggle as women who have never been able to conceive or carry a baby and I really, really hope I don't come across as insensitive, because I am simply trying to share helpful info.

This is a medical device! Please read instructions carefully  before using to avoid misuse and/or infection!
So, the device does admittedly look a little scary, until you familiarize yourself with it. And I can't emphasize enough, you need to read, and re-read the instructions! The Stork OTC conception aid can be a very useful tool, but only if you use it correctly.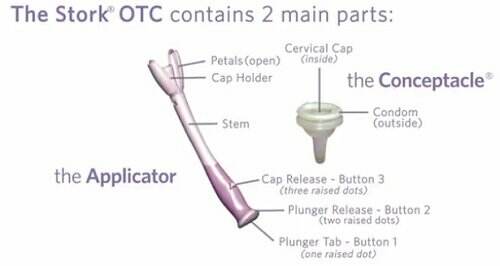 In order to use the Stork, your partner must be on board. This is certainly not a device to use if you're trying to "sneak a pregnancy." You may, or may not, get a funny look from your husband when he sees this…Also, because you need to leave the contraceptacle in for a few hours for your best chances of success, that means you need to make your plans accordingly, which can be difficult.
Last month, I promised to update about whether my use of the The Stork was successful. I'm sorry to say it was not. But I'm not giving up. Sometimes it takes a few tries, as indicated the testimony from this couple who used the Stork successfully:
"My wife and I got married while I was in the Army and between my deployments and careers we ended up waiting until our we were almost 40 to try to start a family. We both had a lot of concerns about our ability to conceive but fortunately the Stork was available. We were able to use it in the privacy of our own home and after only two tries (2-3 months), we conceived."
And that is just one of the many success stories from couples who have used the Stork. I'm really happy I was introduced to the Stork because I am looking for any avenue that could increase my chances getting pregnant, short of going into fertility treatments. I'm so happy that I, and others looking to conceive, have a less drastic option to try first. The Stork is not nearly as costly as fertility treatments and can be used at home.
The Stork is available at CVS and, as of this month (October), is available at Walgreens.
Are you interested in learning more about this innovative at home conception aid? Join in for the #SuccesswithStorkOTC Twitter Party on October 27 at 8 EST, where you will have a chance to learn more about the Stork, share your stories and maybe win prizes!

Hope to see you there!
Save
Save
Save