Thrifty Thursday: Freezer Inventory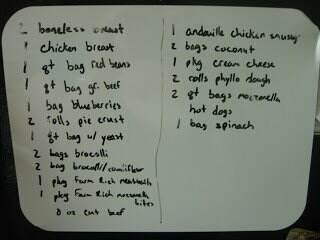 Well, I have have found myself throwing away frostbitten food a lot in the past. And of course, food in the trash means money down the drain. A big reason for this is I was forgetting what was actually in the freezer. And some stuff, especially leftovers tends to become unrecognizable after sitting in the freezer.
     So, I got the idea to use a marker board to do inventory. I got this small marker board from Big Lots for $2. I went through my freezer and wrote down everything in the freezer, including quantity and tossed what was frost-bitten.
     Now, when I freeze something new, I write it on the board. When I take something out, I erase it. This way I will know what I have in my freezer and what is getting low. Now there is a lot smaller chance of wasting food!