Rachel and the TreeSchoolers Series
TreeSchoolers Preschool Science Curriculum
 I received 2 Treeschoolers DVD's to facilitate my review. All opinions expressed are my own honest opinions.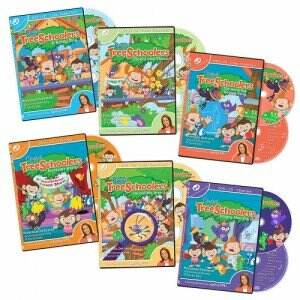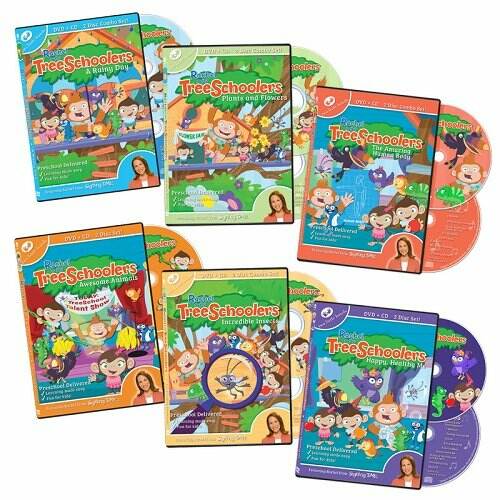 Have you met Rachel and the TreeSchoolers? Rachel and the TreeSchoolers is a preschool science curriculum brought to you by Two Little Hands productions, which is the company behind Signing Time.
I was interested in Rachel and the TreeSchoolers because my kids really benefited from Potty Time and it looked like something they would enjoy. There was only one episode available when I first heard about TreeSchoolers.
The TreeSchoolers shows are only available on DVD/digital copy because TV studios thought the show was "too educational" for a kids' television show. Say what? Fortunately, the producers were able raise funds via Kickstarter and put out the show themselves.
Episode 1, a Rainy Day, teaches children about clouds, rain, thunder and lightning. My kids loved the show and we were just waiting for the next episode to come out. I didn't check up on the show for awhile and by the time I finally did, there were 5 episodes out altogether.
I was overwhelmed with which ones to get next, so after getting in touch with the company, they were kind enough to send me Plants and Flowers and the Amazing Human Body. I think the titles of those are pretty self-explanatory.
We were finally able to complete our collection with one of the $10 sales they occasionally offer. You can find out about these by signing up for their newsletter, which you will be invited to do when you visit the Signing Time website. You can also get the movies in digital form.
If you are familiar with the Signing Time series, you may be expecting Rachel and the TreeSchoolers to be like that. However, TreeSchoolers is not as ASL-centric as Signing Time. Learning signs does still play an important role in the show, but the signs are incorporated into the show, rather than the show being a string of words matched with signs.
What I like about Rachel and the TreeSchoolers is that it teaches scientific concepts in a way that is comprehensive, yet easy to understand. The songs are fun and catchy and Rachel is an engaging host. You get to see real kids involved too, which gets the kids more interested. And of course there is the added bonus of learning signs! 
The Amazing Human Body teaches about different parts of the body and how they function and the TreeSchooler twist on the song Head, Shoulders, Knees and Toes encourages some physical activity!
When episode 7, Scientific Reasoning, was released, I wasn't sure what it would be like, since it didn't seem to have a clear subject like the others. Well, I will tell you it covers things like light, mass/density, magnets and forms of matter. It also explains the cycle of scientific reasoning (hypothesis, experimentation, etc) in kid-friendly terms and uses more signs than the other DVDs. There are also demonstrations of lots of different science experiments which you may be inspired to do with your own children!
When used in conjunction with the free printable activity guides, Rachel and the TreeSchoolers is a decent preschool science curriculum. You'll need to do some planning ahead for some of the activities, like visiting a plant nursery or getting certain books from the library, but the activity guides give a variety of things to do, so it's not just watching the show.
If you are planning to homeschool, I recommend you check out Rachel and the TreeSchoolers. And be sure to check the other great products from the Signing Time website.
Check out Signing Time on social media: