Make Veggie Pasta with the WonderVeg Spiralizer
 I received a WonderVeg spiralizer for review and the post includes an affiliate link. All opinions are my own.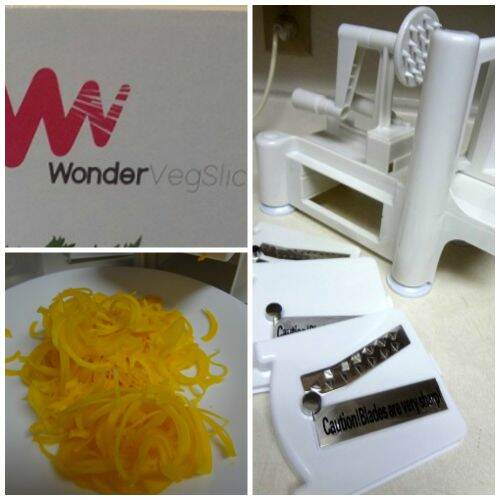 If you're trying to maker low-carb meals, it is a must to find a good pasta substitute, because pasta dishes are just so popular and easy! My favorite method is to make noodles out of zucchini or squash. I prefer squash because it looks more like pasta. The easiest way to make vegetable noodles is with a spiralizer. The WonderVeg has three different blade options. You can make thin, spaghetti like noodles, or you can made them slightly thicker. Finally, you can make flat, ribbon-like noodles. I like to use these in place of egg noodles, like in my gluten-free beef stroganoff. Once you spiralize the squash to the desired thickness, there are a few different ways to cook them. You can boil them in water for about 5 minutes or so, though I find them to be kind of watery. You can roast them in the oven or, my favorite method–saute them in a pan with oil or butter until tender. The WonderVeg is easy to use. My year old loves turning the crank to make noodles. You just have to make sure the feet are firmly suctioned to the surface, or you won't be able to apply enough pressure to make the vegetable slice. You need to be careful not to push too hard on the holding handle, or it might break. I had another spiralizer (different brand, but EXACTLY the same) and the handle broke. Not the crank handle, but the one you hold to keep the vegetables in place while you spiralize. Everything but the blades are made of plastic. I'm really glad I got the WonderVeg spiralizer to review. It has been very useful, even if the design is not the most sturdy. It serves my purposes very well.  Have you ever made zucchini noodles? What's the best way to cook them?