Walmart Toyland Event
This post is brought to you in partnership with Sverve and Walmart. Any opinions are my own.


Halloween is over, and we're already into November. It's hard to believe it's already the second to last month of the year! But that just means we're quickly approaching some of my favorite holidays!
I love Christmas, not only for "the presents" but for the family times and memories that are created by the holiday season. I love the atmosphere, and our own family traditions, like making our favorite holiday dishes, listening to classic holiday music, decorating the tree and looking at lights on Christmas eve.
But before Christmas comes another family favorite–Thanksgiving. You almost can't think of Thanksgiving without thinking of "Black Friday"–the biggest sales day of the year. While I do venture out into the stores on Black Friday, I do so at my leisure, after sleeping in, and don't stress out about not getting the $98 TV, or whatever.
Even though I'm not a die-hard Black Friday fanatic, I do love getting a good deal. Also, I generally start my holiday shopping way before Black Friday comes around. There are always good deals to be had.
That's why I'm looking forward to the Walmart Toyland Event I'll be attending this Saturday! I expect to see the latest and greatest #ChosenByKids toys of 2014 and take a good chunk out of my holiday shopping for the kids.
Remember what makes a gift special is the memory it leaves behind. I got a lot of great gifts when I was a kid, but I don't necessarily remember what I got when. I was a child of the 80's, so you'll probably remember some of these: Cabbage Patch Kids, Barbie Fold n Fun House, my Pretty Balerina and an Easy Bake Oven.
But the Christmas gift that sticks out in my mind wasn't a toy at all. It was a sweater I got when I was a teenager.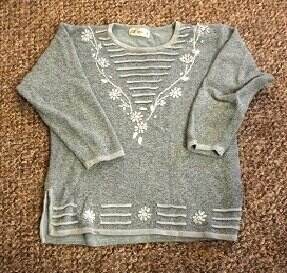 My dad and I were always pretty close, but he didn't always express a lot of emotion and I certainly didn't discuss my fashion choices with him. And at this point in my life, I was beyond asking for specific things and wasn't really sure what to ask for. I was pretty content.
But on this Christmas morning, I opened my gift from my dad and it was a greyish blue sweater and I loved it. I had never seen this sweater before in my life, but it was something I would have picked out if had seen it. And I guess my dad knew that.
It made a big impression on me, and I've never forgotten it. My dad picked out a sweater he thought I would like and got it for me. I still have it, and oddly enough, it still fits, though not quite as *ahem* loosely as it used to.
Now that I have kids of my own, we are making our own family memories. A parent can't plan what gift will be most firmly imprinted on their child's mind. That's why you make as many memories as possible.
Walmart will be having Toyland events throughout November and December, so make sure you check out your local Walmart to see when the next event is.
Have you ever received an extra-special gift?