Wellness Wednesday: What is an Approriate Portion Size?
One of the biggest components of losing weight and being healthy in general is eating appropriate food portions. Drinking plenty of water is also important. So the question is: What is an appropriate portion size for each type of food?
Fresh Baby sent some really great tools to help with determining portion sizes, drinking water and showing kids how fun being healthy can be!
The kit I received included:
Portion size plates (1 adult, 1 child)
Reusable Water Bottles ( 2 adult, 1 child)
Foam Puzzle depicting fun ways to be active outdoors
Food Portion tip card to help guide portion sizes

Apron to encourage involvement in the kitchen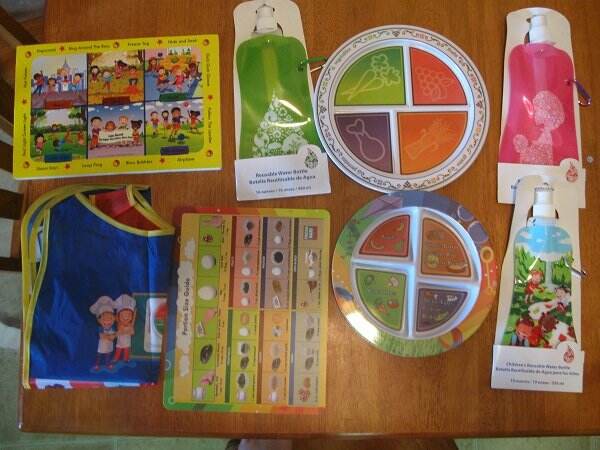 I have a very hard time getting my daughter to drink plain water. However, she really liked the Fresh Baby water bottle and would actually drink water! She also liked the apron, though it's really a little more like a big bib!
My favorite things in the package were the portion control plates. I especially like that they sent an adult one too! In the past, I've even considered eating from a "kid's plate" just to make sure I got the right proportions.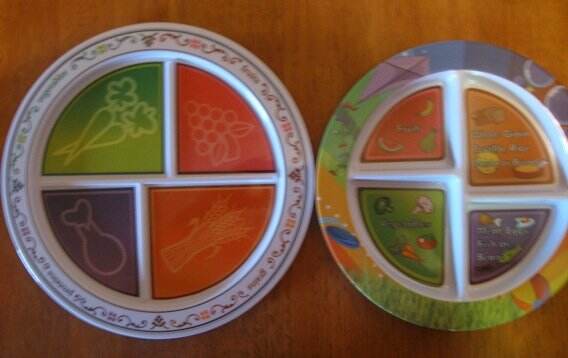 When I was pregnant with my 2nd, I got very close to gestational diabetes and failed the first glucose test. DH tattled on me at the doctor's appointment where the Dr went over the results that I ate what I liked most of the time (which was a little heavy on the carbs). And this was where a I got a (nice) mini-lecture about what I should be eating.
My doctor said an easy way to remember was to imagine your plate was in 4 sections (no imagination needed with the Fresh Baby sectioned plate!). You should have one fist-sized portion of protein (meat, eggs, beans), one portion of starches (ideally non-refined, whole grains like brown rice) and two portions of vegetables and fruits (primarily veggies).
Do I always stick to this? Not as much as I should. But it is always there in the back of my mind when preparing meals. While you could just have a double-portion of a single vegetable, I find it better to just make 2 different veggies. That way there is more of a variety.
 I love that I have these tools to help me incorporate healthy eating habits with my daughter. She loves having a plate and water bottle "like Mommy" and I think these things will help encourage her.
The goal of Fresh Baby is to educate parents on how to implement healthy eating habits with their children and reverse the trend of increasing childhood obesity. They provide tools and support to do this, such as homemade baby food kits, breastfeeding reminders, portion plates and this really helpful portion size tip sheet.
 Check out Fresh Baby to see how you can encourage healthy living with your children! website * facebook * twitter * pinterest
 How do you incorporate healthy habits into your day?
I received one or more of the products mentioned above for free for evaluation purposes. However, all opinions expressed are still 100% my own. I am disclosing this in accordance with the Federal Trade Commissions 16, CFR part 255 Guides Concerning the Use of Endorsements and Testimonials in Advertising. Please see my full disclosure policy HERE.