Think About it Thursday: Working Moms VS Stay at Home Moms
Working Moms vs Stay at Home Moms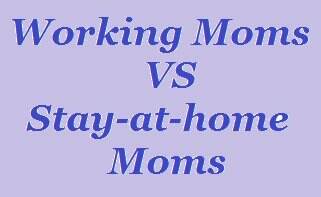 Since Mother's Day is coming up, I thought I talk about a "mom" topic that's been on my mind. Let me first just say I believe all moms deserve to be celebrated and valued! I don't really get the "war" between stay-at home-moms and moms who work outside the home. It seems I hear  lot of judgement both directions and that's just sad. 
Moms who work out of the home think stay-at-home-moms are "lazy" and "leeches" on their husbands because they don't bring any income into the home. They must be mindless doormats to want stay at home and manage the household and are most likely uneducated.
Stay at home moms accuse "working" moms of not being there for their children, letting them be raised by others, caring more about money than their family and so forth.
Of course, these are generalizations. Not all working moms judge stay-at-home-moms and vice-versa. Some women have even been in both places. I just think it's sad when it does happen. Even having the opinion that women should be able to stay home if they choose to do so is cause for derision among some. Look at how the feminists jumped all over Kirsten Dunst for such a view.
Just because a woman can choose to have a "real" job doesn't mean she should have to work in the corporate world. Such a view is just as oppressive as telling a woman she must stay at home and manage the family. Isn't true feminism about being able to have the choice? 
My point is, I think we all love our children and we are all making the best choices we can for our own families. For some that means working full-time or part-time outside of the home. For others, it makes more financial as well as logical sense to stay at home.
 I couldn't come up with all these numbers on my own, but here is a fabulous infographic that illustrates how much a mom really does, and what it could cost a family if she were not there.
Keep in mind not all of these things will apply to every family, but I just thought it would help put things in perspective!
  Do you agree with this illustration?