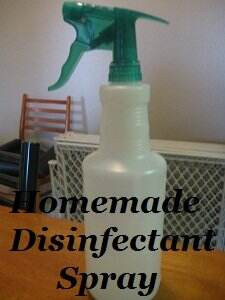 I finally got around to making some homemade disinfectant spray. I can't stand the chemical smell of commercial disinfectant spray–it makes me gag. But you need to have a good disinfectant around the house–especially after illness. So I finally made my own "green" disinfectant. 
     It is really quite simple to make. Simply add 2 cups water to a spray bottle, add 4 TBSP distilled vinegar and 5 drops each of tea tree and lavender essential oils. Tea tree and lavendar oils both contain antimicrobial properties that discourage mold and disinfect most surfaces.
     This is a safe, non-toxic cleaner, but like any cleaners, it should be placed out of reach of children. Also, it is best to avoid use on glass or natural stone surfaces, as the oils may damage them. 
     If you do not have any essential oils, the Eden's Garden Basic Sampler is a very good starter kit, containing both tea tree and lavender and a few other oils commonly used in homemade cleaning and personal care products.It is approx. $20, but that is a reasonable price for 6 bottles of essential oils, IMO. 
     Do you make any of your own cleaning products?