Make It Monday: Make Your Own Fresh Mozarella!

How to Make Mozzarella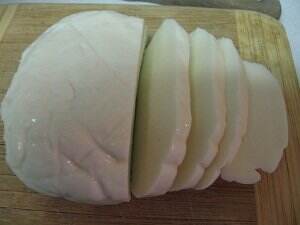 Have you ever made your own mozzarella? It is one of the easiest cheeses to make and can be ready quickly. This Mozzarella/Ricotta Cheesemaking Kit from the New England Cheesemaking Supply Company makes it really simple, by putting everything you need (except the milk) in a kit to use. And it is yummy!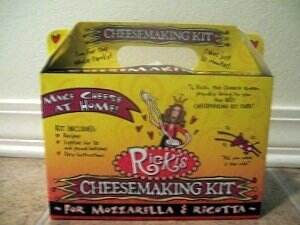 To make your own mozarella you need:
     A gallon of milk. Ultra-pasturized won't work
     1/4 of a rennet tablet, dissolved in 1/4 cup chlorine-free water
     Citric acid, dissolved in 1 cup chorine-free water
     1 tsp Cheese salt
     cheesecloth
     cooking thermometer

     First of all, you put the milk and citric acid solution in a gallon (4-quart) pot. Stir rapidly as you raise the temperature to 90 degrees. Remember, that's below body temperature, so it won't feel warm to you. I had to remind myself of that! Should take about 5-7 minutes.
     Remove from heat, add the rennet solution and stir slowly about 30 seconds. Allow to sit for 5 minutes. It should start curdling at this point and have a yogurt like layer on top. Take a knife and slice it in lines, then slice it crossways.
Return to heat and stir slowly as you heat it to 105 degrees.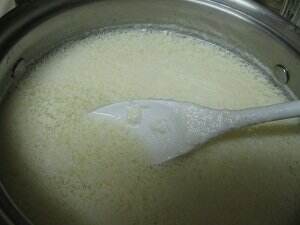 Now place a piece of cheesecloth over a bowl. If you don't have someone to help you hold the cheesecloth over the bowl, place it  over a collander. Pour the curds and whey mixture. You may have to do it a little at a time. The whey (the liquid) will drain out and the cheese will look kind of like ricotta.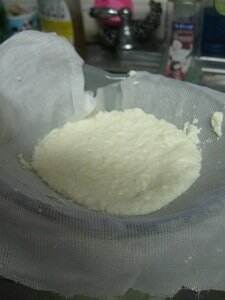 Pull up the sides of the cloth and gently squeeze to remove a little more whey. Don't squeeze too hard or you might start gumming up your cheesecloth with curds. Put the curds in a large microwavable bowl. Once you've got as much whey out as you can, microwave the cheese for 1 minute. 
     When you take it out, this is when you will add your cheese salt, as you stir and work the cheese around. This is also a good time for a taste test. 😉 Some more whey may come out, so continue pressing and removing as much whey as possible. Microwave another 30 seconds.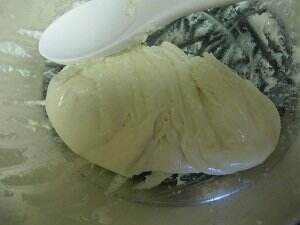 Now is the time to start stretching your mozzarella (like taffy) and folding it. Stretch and fold, stretch and fold. You may need to microwave it again if it doesn't stretch well. Form it into a ball, log, braid, or whatever shape you like and submerge it in a bowl of cool water for 5 minutes. Then add ice to the water and allow it to set another 15 minutes.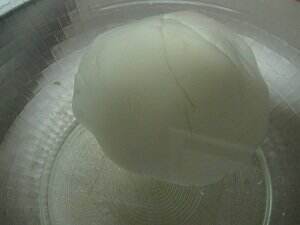 After the water-bath, the cheese is ready to eat! I wrap mine in wax paper before placing in a container for the fridge. Wax paper doesn't stick like other materials will. Cut it up and serve! 
     You will have quite a bit of whey left over. I would say 3/4 of the gallon of milk will be leftover whey and 1/4 will become the cheese. I was loath to throw it away, so I did some searching and found out whey is actually quite good for you and has a lot of the good enzymes, proteins, etc in it. I don't personally like the taste of it plain, but you can mix it in smoothies, use it to boil grains and pastas, or use it instead of water in recipes. Some sites even said you could wash your hair or face with it!
     The New England Cheesemaking Supply Company has everything you need to make cheese. The Mozarella/Ricotta Cheese Kit is great for beginners and comes with everything you need! I also would have really liked to try the Basic Cheese Kit, but you need to have somewhere to age the cheeses (like a cool cellar or extra fridge) and we live in a small apartment. 🙁
     If you are interested in making your own cheese, I highly recommend you check out the New England Cheesemaking Company. They have lots of supplies, info, recipes and resources on making cheese. Also make sure to check out their facebook page!
I received one or more of the products mentioned above for free for evaluation purposes. However, all opinions expressed are still 100% my own. I am disclosing this in accordance with the Federal Trade Commissions 16, CFR part 255 Guides Concerning the Use of Endorsements and Testimonials in Advertising. Please see my full disclosure policy HERE.