9 Steps to Starting Trim Healthy Mama on Any Budget!
Have you been wondering how to get started on Trim Healthy Mama, or even what it is? You might have seen a friend or a blogger you follow posting about their great results on the plan and wondered what it was all about.
Perhaps you've looked into the plan and felt overwhelmed or even confused about how it works.
You might have gotten the impression it's some kind of "low carb diet" since there a ton of Trim Healthy Mama recipes that are low carb. That was my first impression when I first heard about it.
Is Trim Healthy Mama a low carb diet? No, it's not.
So what is Trim Healthy Mama?
In a nutshell, it is an eating plan that focuses on balancing your blood sugar by separating your fats from your carbs. There is much more to it, of course, but that is the general idea.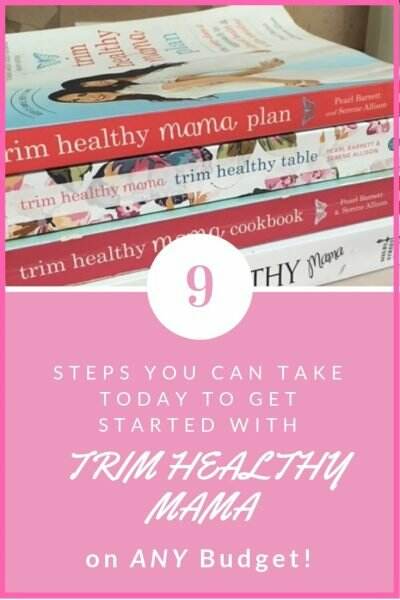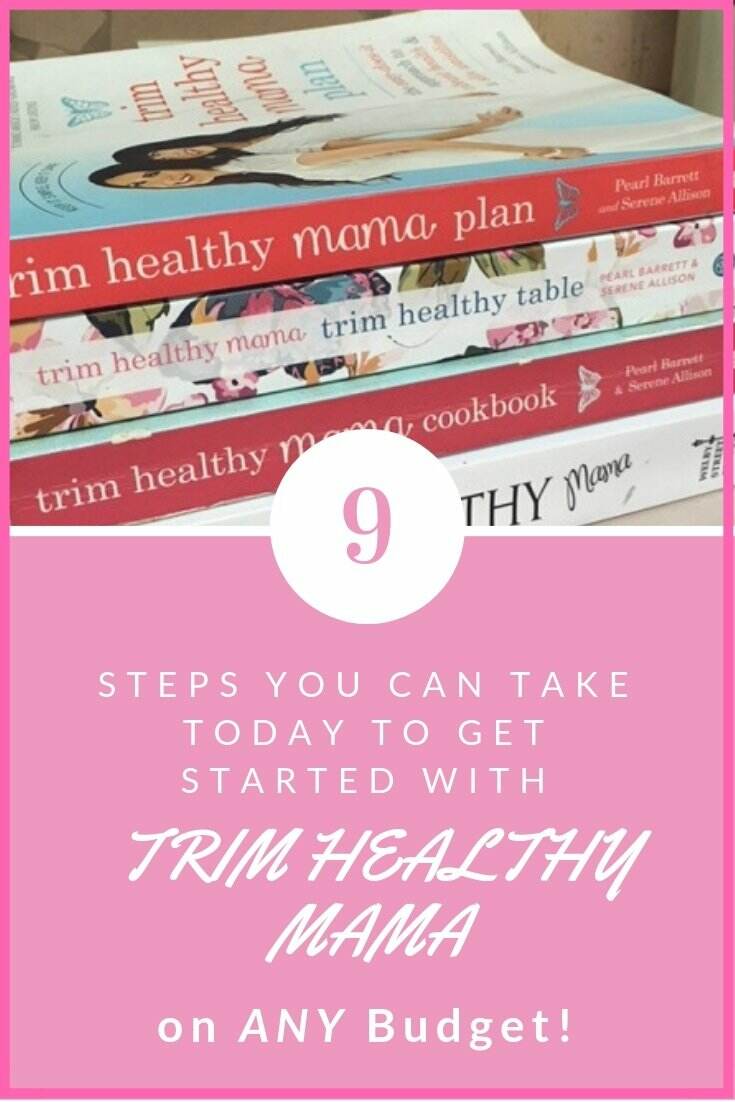 Repin for easy reference!
*Affiliate links may be included in this post. As an Amazon Associate, I earn from qualifying purchases. Please see full disclosure policy here.
Four Main Meal Types
Here is a brief explanation of the terms you will see in the THM community. It is important to know these terms when you are sifting through all the THM recipes on Pinterest.
E for energizing. These are meals that contain up to 45 grams of net carbs. Net carbs are the number of total carbs minus grams of fiber and/or sugar alcohols. You should aim for no more than 5 grams of fat in an E meal.
Focus on healthy carbs, such as oatmeal, fruit, fat-free plain Greek yogurt, starchy veggies like sweet potatoes, carrots and beans. Breads should be made from sprouted or fermented (sourdough) flours.
S for satisfying. S meals are allowed to have more fats in them, but not more than 10 net carbs. So S meals are where you get to cook with butter/oil, have cheese, fattier meats and the like. A lot of people seem to gravitate toward the cheesy, buttery, fatty S meals. But it is important to get some E meals/snacks in too! It's a good idea to aim for at least one E meal or snack a day, but no less than four a week.
FP for fuel pull. This is when you have no more than 5 grams of fat or 10 net carbs. These meals can sometimes give a fuel-burning boost, but it's important not to overdo these.
XO for crossover. This is when you have more than 5 grams of fat and more than 10 net carbs in a meal. These are not encouraged to have often if you are trying to lose weight. When you reach your goal weight these are great as long as they are the right kinds of fats and carbs. Pregnant or nursing mothers, men and growing children also need more crossovers.
Now that you know the basics, here are some things you can do right now to get started.
Get Your Hands on a Book! The best way to get a grasp of the way the plan works is to get ahold of either The Trim Healthy Mama Plan book or their newer book, Trim Healthy Table. Whether you purchase a copy, check it out from the library or borrow from a friend, try to get ahold of one!
For a beginner, I recommend getting the Trim Healthy Table book to start because it has a sort of quick-start guide to the plan, giving you all the info you need to get started. Just read the first 3 chapters. The Plan book goes into much more detail about why the plan works, special dietary needs, and more advanced stuff, like S-helpers, fuel cycles and what to do if you hit a weight-loss stall. Think of it as level 2.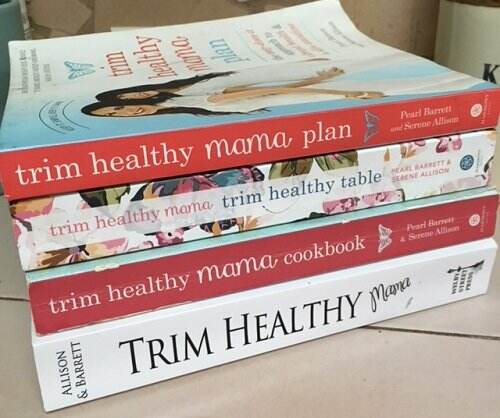 And I want to note that the Trim Healthy Mama Plan is currently available on Audible as an audiobook. So if you've never signed up for Audible, you can sign up for the free 30-day trial and download 2 free audiobooks (including the Trim Healthy Mama Plan!) right away.
If you decide to cancel before the 30 days are up, that's ok–you get to keep the free audiobooks, no money out of your pocket! This is a great option if you're really on a budget. You do need to cancel within 30 days, so you don't get charged after that.
Start listening to the podcasts Pearl and Serene have a weekly podcast with a ton of advice for doing the plan right and tips for adapting it to your lifestyle. You're bound to learn something just from listening to "the poddy" and it's all free and fun to listen to. I especially recommend episode 16: Get Your Blood Sugar Under Control. They essentially talk about the basics of how and why the plan works here. Listen on your computer, or on your phone if you have a podcast app!
Join the Facebook group If you're on Facebook, you'll want to join the facebook group. It's great for support, and you can usually get quick answers to your questions! In fact, I've seen some ladies say they've been able to lose before ever purchasing a book, just from following posts on the main Trim Healthy Mama Facebook group. Of course, I do still recommend getting a book for the best results!
Stop the refined sugars. If there's one tip you need to take away from this, it's that you need to cut out white flour, refined sugar and other "white" foods. And yes, this includes most processed foods, drinks and even juices. It can be hard. I won't lie. Sugar addiction is real. You may get a headache, become irritable, or even feel slightly nauseated at first. But I always find even after a couple of days off the sugar and gluten, I feel less bloated.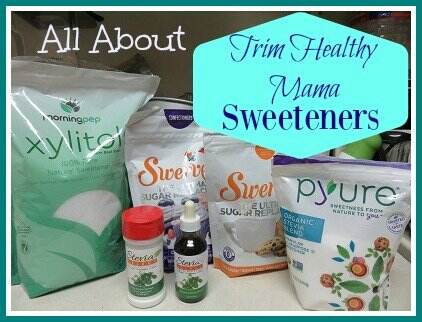 Find a New Sweetener Remember when I said no more refined sugar? That doesn't mean we can't enjoy desserts anymore. You simply have to find a new sweetener to love.
My personal favorite is Gentle Sweet for baking and THM Stevia or Stevia Select for drinks. However, if you're unable to order items online and want to choose only one sweetener to start, Pyure is a very popular choice for families on a budget!
It is readily available in most grocery stores and a little goes a long way. The product states it is twice as sweet as sugar, but many describe it as being almost 3x as sweet. To learn more about all the sweeteners that are acceptable on plan, please see my post about On Plan Sweeteners.
Find a Go-to Lean Protein It's important to always get some protein with each meal. A good rule of thumb is 15-25g for a meal and 5-10g for a snack. Pretty much any meat can be used in an S meal. Whole eggs are also 'S' proteins. E/FP proteins require a little more thought, because they must contain very little fat. Lean meat options include boneless, skinless chicken breast, ground beef drained and rinsed with super-hot water, and canned tuna.
For breakfasts and snacks, low fat cottage cheese, fat free plain Greek yogurt and a carton of egg whites are very handy to have on hand and are available at your local grocery store. Pick one or all 3, depending on your budget and add a 1/2 cup or so to your meals or snacks otherwise lacking in protein. Protein powder and collagen are also great non-fat protein boosters, but then we're getting getting into things that are a little more expensive, and not as easy to find offline.
Note: You need to be very careful of most protein powders. We look for isolate whey protein, with no off-plan sweeteners. I like the THM Pristine Whey the best, and you know for a fact that's on plan. 😉 Frugal tip: In many recipes calling for protein powders (especially shakes and baked items) you can sub low fat cottage cheese. Cheap, and still full of protein!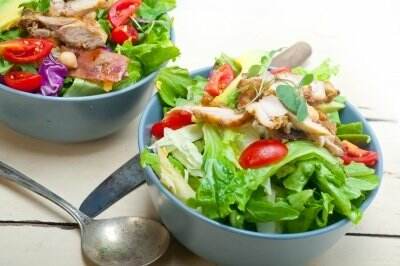 Eat Your Veggies! I know I'm not your mom, but it needs to be mentioned. Getting in my veggies is honestly the area I struggle with the most. It takes some effort. But veggies at least a few times a day are encouraged–especially greens! A salad of spring mix with a drizzle of olive oil and vinegar and maybe a few cherry tomatoes is a very simple way to add veggies to a meal. And the fabulous zucchini has such a mild taste you can fix it all kinds of yummy ways, like "zoodles," cinnamon "zapples" (my newest fave!) and the delicious Trimtastic Zucchini Chocolate Cake found in the first Trim healthy Mama Cookbook! And there are several amazing variations of the cake in Trim Healthy Table. Eating your veggies has never been so delicious!
K.I.S.S.-Keep it Simple Sweetie! Yes, there are lots of fabulous, grand on-plan meals and desserts scattered all over Pinterest. Also lots of great recipes in both the Trim Healthy Table book I've already recommended and the Trim Healthy Mama Cookbook (known among THM-ers as "the first cookbook". But you don't need to do anything fancy to start. Below is sample of what a Trim Healthy meal might look like, no special ingredients necessary, just to show how simple and inexpensive it can be to follow the plan.
Breakfast: S: Eggs and veggies or berries E: Oatmeal, plain fat free Greek yogurt and fruit of choice
Lunch: S: Whatever you would eat on a "regular" sandwich (ham, cheese, roast beef, mustard, mayo, chicken salad), only on a Joseph's pita or 1/2 lavash (available at many Walmarts!) instead of regular bread. You could also use a large lettuce leaf as a wrap or just make meat and cheese roll-ups and a salad of mixed greens, tomatoes and olive oil and vinegar. E: Sprouted or wheat sourdough bread with a lean lunch meat, like black forest ham or turkey, tomato and a wedge of light Laughing Cow cheese, and a salad with mixed greens, tomato and a light yogurt based dressing. I like the ranch from Bolthouse farms.
Snack: S: 1 or 2 Hard-boiled eggs and 3/4 cup mixed berries E: Fruit of choice with 1/2 cup fat free Greek yogurt or cottage cheese
Dinner: S: Roasted, bone-in chicken with sauted mushrooms and zucchini E: Grilled or baked boneless, skinless chicken breast with a sweet potato or brown rice and green beans
You can switch "fuels" (carbs or fats) every 3 hours. Try to have a meal or snack every 2 1/2 to 4 hours, but aim for 3. If you're pregnant or nursing, you can eat as often as every 2 hours. The purpose of the times between meals is to give your body to use the fuel from your last meal before adding more.
I've been trying to post some of my quick meal ideas on my instagram page, too, so make sure to follow me @anordinaryhousewife!
Give Yourself Grace There is a little bit of a learning curve to Trim Healthy Mama, but the biggest rule is don't be too hard on yourself if you slip up! You will probably have some unintentional crossovers in the beginning. That's okay! Crossovers are actually not bad, as long they are on plan crossovers. And eliminating sugar and refined flour products will benefit you even without separating fuels.
You will also probably have to adjust your grocery shopping a bit. How much you need to change depends on your current shopping list. Just remember eating on plan doesn't have to be expensive. Things like old fashioned oats, eggs, brown rice, canned tuna and beans are on plan and quite inexpensive. Chicken leg quarters and frozen vegetables also make for cheap and simple dinners.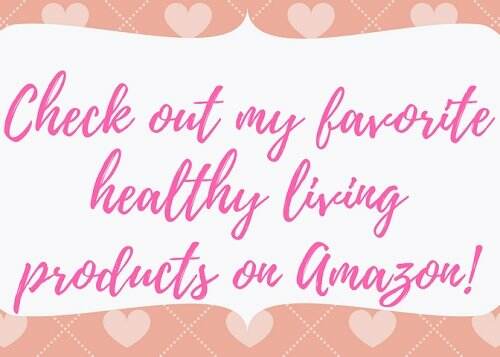 If it is in your budget to get some of the extra items mentioned in the Trim Healthy Mama books and groups–wonderful! There are many to choose from and they can make the transition easier. If not, rest assured you can absolutely be successful without any special special ingredients, though I do suggest a good sweetener at least.
You can find a variety of baking ingredients, beauty products and other accessories in the Trim Healthy Mama store. They also offer a starter kit which includes a starter book, 1 year membership to the THM membership site and a selection of some of THM's most popular products!
I've also compiled an ever growing list of my favorite baking aids, convenience food and other healthy living aids on my Healthy Living Amazon store!
I hope I have helped you understand a little bit about what Trim Healthy Mama is all about and that it doesn't have to be expensive or complicated. You can do it on any budget and be successful.
I know some ladies whose only "special ingredients" are coconut oil, almond milk, apple cider vinegar and a bag of Pyure and these can be bought at almost any grocery store.
Flax meal and coconut flour are also widely available and can be substituted in equal parts for the baking blend many recipes call for (though the recipes would now be an S instead of FP as these flours contain more fat).
A bag of whole wheat flour can become several batches of sourdough bread, which would be an E.
Ground oats also make a cheap E flour option, like in my Protein Pumpkin Cake recipe. You can also check out my Trim Healthy Mama recipe page for some delicious on-plan meal ideas!
Image courtesy of KEKO64 at FreeDigitalPhotos.net