Low Fat, Gluten-Free Pumpkin Cake (THM – E)
There may be one or two affiliate links here. They won't affect your purchase price if you do choose to buy.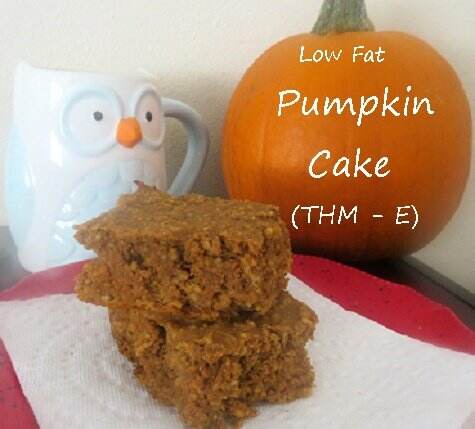 Repin this recipe for later!
I'm a little later getting this post up than I'd originally planned (okay maybe a lot later). But time's a-tickin away to share anything like a fall recipe! This should have been up in, like, September! But I also know there's well over a month before pumpkin stuff goes out of vogue, so there's plenty of room for another pumpkin recipe!
I've seen a few on-plan pumpkin cake/bread recipes going around,  but the ones I've seen tend to be an S on Trim Healthy Mama. I have a low-carb pumpkin cake recipe myself. But I haven't seen any E pumpkin cakes. Not saying there aren't any out there–just that I haven't seen them. But this one is an E, and it's full of protein. Oh, and did I mention my husband and kids devoured this within a couple of days? Let me tell you, there's no higher praise than that!
Ready to make it? Here's what you need:
2 cups pumpkin puree, or a 15 oz can of pumpkin
1/2 cup plain protein powder
3/4 cup Gentle Sweet/Truvia/Pyure (I like to make my own Gentle Sweet blend)
3/4 cup liquid egg whites
1/2 cup unsweetened applesauce
2 tsp vanilla extract
2 cups ground oats
2 tsp. ground cinnamon
1  tsp. ground ginger
1/2 tsp all spice
1/4 tsp. ground cloves
1 tsp baking powder
1 tsp. baking soda
1/2 tsp. salt
1/4 tsp Vanilla Powder

(the powder gives a slightly different flavor, but you can do an additional tsp vanilla extract instead)
Spray a 9-inch by 13-inch glass baking dish with coconut oil cooking spray or grease with coconut oil. Mix together the pumpkin, eggwhites, applesauce, sweetener, vanilla extract and protein powder. Then add the ground oats, followed by the rest of the dry ingredients. Mix together and spread the batter in a prepared baking dish. Bake for 30 minutes in an oven preheated to 350 degrees. Allow to cool before cutting into squares.
If you like, you can make this fuel pull cream cheese frosting to spread on top. But these taste great on their own too!
Save
Save
Save