Skinny Peppermint Bark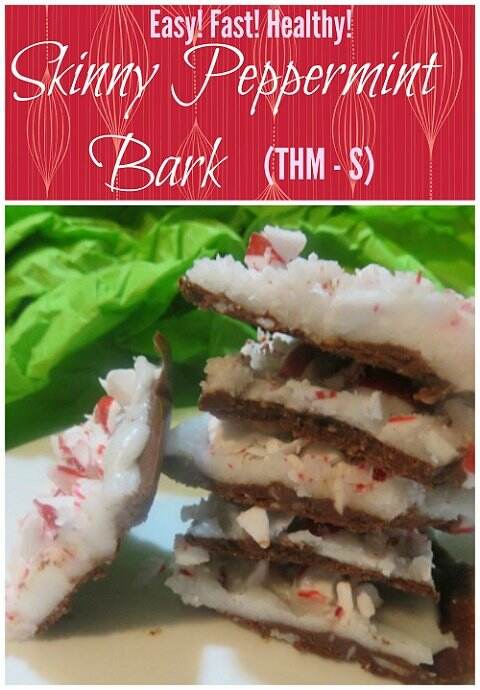 With the holidays peeking round the corner, I've been noticing my favorite holiday treats becoming available in stores. I'm sure you have too. I, for one, love peppermint bark. It's one of my favorite holiday treats. You can't go wrong with peppermint and chocolate!
*Affiliate links may be included in this post. Please see full disclosure policy here.
Since I've heard a few of my Trim Healthy Mama friends mention missing peppermint bark, I'd like to present you all with a much healthier alternative. It's sugar free, low-carb and full of healthy fats. It's also really easy and can be done in under an hour. If you follow the Trim Healthy Mama plan, you probably have most of the ingredients on hand.
This would be an S on THM, and even better, a deep S, because it's basically skinny chocolate with festive spin. If you're not on the plan, it's still a healthy way to get healthy fats and your minty chocolate fix!
Like this post? Repin this recipe for later!
Skinny Peppermint Bark
Dark Chocolate Layer
6 TBSP coconut oil (I prefer the refined for this, because I don't care for the coconut taste, but unrefined virgin would work too)
2 TBSP Cocoa Powder

1 1/2 TBSP Gentle Sweet, or powdered Pyure or Truvia (I used my own blend)
1/4 tsp peppermint extract
small pinch of salt
White Peppermint Layer
6 TBSP coconut oil
2 TBSP Gentle Sweet

1/2 tsp peppermint extract
small pinch of salt
optional: 10 sugar free peppermint candies, crushed…I used these, but they are Splenda sweetened. For a few dollars more, you can get xylitol peppermint candies. If you don't want to use either of these, you can simply omit them, though it won't be as "festive." You could also make another half batch of the white peppermint layer, add some red food coloring, freeze it, and break it into little pieces to sprinkle on top. Or, try coloring coconut flakes red.

First, make the dark chocolate layer by mixing 6 TBSP coconut oil, 1 1/2 TBSP Gentle Sweet, 1/4 tsp peppermint extract and small pinch of salt in a bowl. I did not need to melt it but if you do, only do it for like 10 seconds. You don't need it warm. Spread it as thin and evenly as possible in an 8×8 square dish lined with wax paper. Place it level in the freezer.
If you plan to use the crushed mints, now is the time to crush them if you haven't already. Put 10 mints in a ziploc bag and tap them with a mallet or hammer until they are crushed into small pieces.
Now make the white peppermint layer. Just like the chocolate layer, mix together 6 TBSP coconut oil, 2 TBSP Gentle Sweet, 1/2 tsp peppermint extract and small pinch of salt. If the chocolate layer is already firm (which shouldn't take more than 15 minutes), add the peppermint layer and sprinkle with peppermint pieces. Return to the freezer at least another 15-20 minutes.
When the bark is firm, remove the whole sheet of wax paper holding the bark, lay out on the table and cut or break into pieces. It will not stay firm at room temperature very long, so store it in the freezer until you are ready to enjoy it!
Save
Save
Save