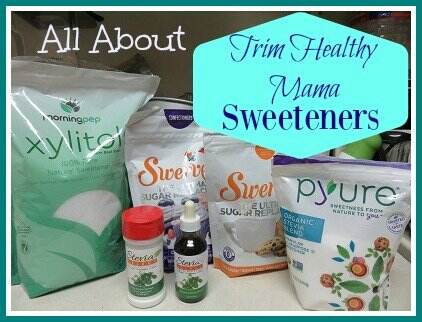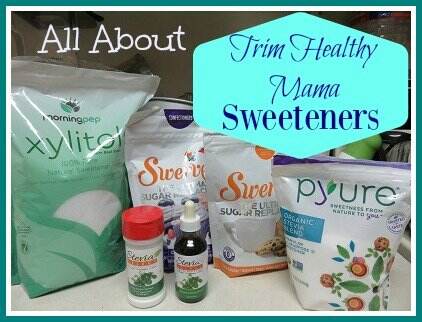 Repin this post for later!
You may have read my post about Baking on Trim Healthy Mama, so some of this info might sound familiar.  But going over the info about different sweeteners, and hearing questions for people at a loss about what to do if they are unable to have this or that sweetener, I felt there needed to be a post exclusively about sweeteners.
Also, some people have been asking how to make "Gentle Sweet" (or something similar) using store-bought stevia/erythritol blends. And I adjusted my homemade Gentle Sweet recipe to be a little sweeter and I feel it's a little closer to the "real thing." More on those below.
First, let's go over the three main sweeteners that are used on the plan.
Erythritol-This is a sugar alcohol and is a by-product of corn. It does not raise blood sugar and is not absorbed by the bloodstream. It is about 70% as sweet as sugar. Downside: It can leave a "cool" feeling in your mouth which some people dislike. I like to buy it in 5 lb bags on Amazon. It comes out to a little under $6/lb this way.

Xylitol: This is another sugar alcohol that does have a (very) small impact on blood sugar, but is still ok on the plan. It is about the same sweetness as sugar and probably tastes the closest, BUT it is not for everyone.
Downside: Some people report mild to severe discomfort in their digestive system when consuming xylitol. Xylitol made from birch is said to be gentler on the tummy that that made from corn. Also, xylitol is known to be toxic to dogs. So please tread carefully with this sweetener.
Stevia: If you have a good, pure stevia powder, a little goes a long way. It is best mixed with other sweeteners. Downside: It tends to leave a bit of a weird aftertaste if you use too much. It is related to ragweed, so you may be unable to use it if you have a ragweed allergy. Also, it can be difficult to find a good stevia powder, as many have added fillers or are more bitter than others.
Besides the THM stevia, available in their store and at Swanson's, I sometimes use Stevia Select. By the way, Stevia Select also has a liquid stevia, which Trim Healthy Mama does not have (yet). I finally got to try it and just want to say it's what I'll be getting from now on if I want liquid stevia! They also have flavored liquids, but I haven't tried those yet, except the cherry vanilla flavor I've used in my "Fruit Punch Good Girl Moonshine!" What Trim Healthy Mama does have, however, is a 4 oz bag of stevia. I know, it's only 1/4 of a pound, but it is so potent it will last you quite a while. Even with shipping, it comes out to the best deal. Swanson's has THM products for the same price and a flat shipping rate of $5.99, which is actually a little less than the THM website.

Before I move on to the other sweeteners, I wanted to go ahead and let you know my updated Gentle Sweet recipe. I kicked the sweetness up just a notch, since I found myself adding a little extra with my original recipe. If you don't have as much of a sweet tooth, you may prefer the other blend, which I introduced in the baking post.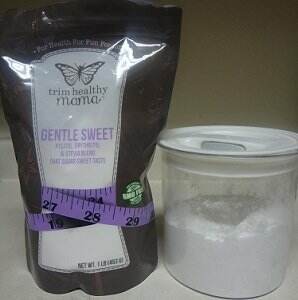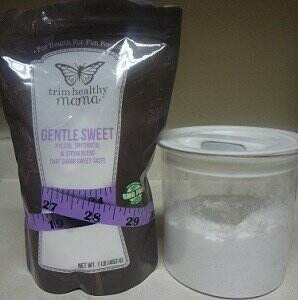 New Gentle Sweet Recipe:
2 cup xylitol
2 cup erythritol
2 tsp THM stevia powder or Stevia Select. If you must use another brand of stevia, make sure you read measurements per cup. You want whatever equals 2 cups of sugar.
Grind ingredients in a blender or food processor until it is a powder consistency. I find my blender does a better job of making it a powder.

Start with 1/3 cup per cup of sugar and adjust up as needed. Use as is in recipes calling for Truvia, Pyure or Gentle Sweet.

Xylitol free Gentle Sweet. Trim Healthy Mama has come out with Xylitol free Gentle Sweet for those who cannot have the regular Gentle Sweet. I have not tried this particular sweetener, as I prefer the one that has xylitol. But it is an option for folks who need it!
If you'd like to make your own, Rachel at Country Girl Cookin' has a recipe for homemade xylitol free Gentle Sweet. I honestly would have expected the stevia to erythritol ratio to be a little higher, but since she has experience with the xylitol free version, I will defer to her on this!
Now, some people already have Truvia or Pyure and want to know how they can use xylitol to cut the cooling effect. The first recipe below assumes no additional stevia, but the erythritol may have a stronger taste. I have recently noticed one brand of xylitol, XyloSweet, in my regular grocery store, so if you're looking to "stay local" this may be an option for you. Many health food stores also carry xylitol, so if you have a health food store of any kind locally, you can check there.

Gentle Sweet Using Pyure or Truvia (if no additional stevia)
1 1/4 cup Pyure/Truvia
1 cup xylitol
Grind ingredients in a blender or food processor until it is a powder consistency.
Use 1/2 cup per cup of sugar and adjust as needed.
Gentle Sweet Using Pyure or Truvia (if using additional stevia)
1 cup Pyure/Truvia
1 cup xylitol
1/4 tsp THM stevia powder or Stevia Select Note: If using a different brand of stevia, take note of its equivalent to sugar. You want whatever is equivalent to 1/4 cup of sugar. So if it says 2 TBSP per cup of sugar, you'll want to use 1 1/2 tsp in this recipe.
Grind ingredients in a blender or food processor until it is a powder consistency.
Start with 1/3 cup per cup of sugar and adjust up as needed
Gentle Sweet Using THM Super Sweet
1 cup Super Sweet
2 cups xylitol
Grind ingredients in a blender or food processor until it is a powder consistency.
Use 1/3 – 1/2 cup per cup of sugar, or in place of Gentle Sweet and adjust as needed.
Although many people find Gentle Sweet more friendly to their systems than plain xylitol, some people still cannot tolerate it, and may need to stick with Super Sweet Blend, or the grocery store equivalent (Pyure, Truvia, etc). Occasionally someone very sensitive to sugar alcohols may find themselves unable to tolerate even erythritol. If this is you, then you have yet another option, though the cost is slightly more. Trio Sweet is a blend of stevia, monkfruit extract and chicory root fiber (inulin). The last 2 are  on plan sweeteners that are seldom talked about, probably because they are more expensive.
Monkfruit extract (also called Lo Han Guo) is very potent, supposedly even more than stevia, and 2/3 tsp has the sweetness of 1 cup of sugar. Meanwhile, THM stevia is 1 tsp per 1 cup sugar. Amazon has the best deal I've found on pure monkfruit powder at $30 for 3.5 oz. So as long as this price keeps, that's a pretty good deal. Plus, many people report less of a bitter "aftertaste" with monkfruit, as opposed to stevia.

If you can't have stevia, but you can have erythritol, you could try a monkfruit/erythritol blend like Lakanto Monkfruit Sweetener. It measures cup-per-cup like sugar. But monkfruit blends are still more expensive than the stevia blends, so only go that route if you have to. Beware of the brands in the grocery store, such as Monkfruit in the Raw, that contain dextrose.
Allulose is not mentioned in any of the books because it has only very recently (as of early 2019) been approved as an on-plan sweetener. But admins have confirmed allulose is on plan. Allulose is about the sweetness as erythritol (70% as sweet as sugar). If you would like more info on this sweetener, you can check out this page.
If stevia is the only thing you cannot have, you could also try making a version of Gentle Sweet or Super Sweet Blend using monkfruit instead of stevia. I would suggest trying these ratios:
Stevia Free Super Sweet
1 1/2 cup erythritol
1 tsp pure monkfruit extract powder

Mix together thoroughly and use 4-5 TBSP per cup of sugar
Stevia Free Gentle Sweet
2 cup xylitol
2 cup erythritol
1 1/2 tsp pure monkfruit extract powder

Grind ingredients in a blender or food processor until it is a powder consistency.

Use 1/3 to 1/2 cup per cup of sugar, or in place of Gentle Sweet.

Stevia Free, Xylitol Free Gentle Sweet (calculated based on the recipe from Country Girl Cookin')
3 Cups erythritol
1/4 tsp Pure Monkfruit extract
Grind ingredients in a blender or food processor until it is a powder consistency.
Use 1/2 cup per cup of sugar, or in place of Gentle Sweet.
Swerve is an erythritol blend that uses oligosaccharides to boost the sweetness up to 1 to 1 ratio with sugar, as opposed to needing about 1 1/3 cups erythritol to equal 1 cup sugar. Oligosaccharides are carbohydrates which have 3-10 simple sugars linked together. They are found naturally in many plants and are not easily absorbed by the body. You can read more about oligosaccharides here. Swerve is an on plan stevia-free sweetener.
You can use Swerve for the erythritol in the above recipes if you like. Since it is a little sweeter than regular erythritol, you may use 3/4 cup in place of 1 cup erythritol, or start with a lesser amount of your sweetener when using it in recipes. There is even a powdered Swerve.
Higher Glycemic, but On-Plan Sweeteners
There are a few sweeteners that are considered on-plan for those at or close to goal weight, but should be limited if trying to lose weight. Even those in maintenance mode won't want to overdo these.
Raw Honey. Raw honey has many beneficial enzymes and anti-fungal and anti-bacterial properties. That's why you'll see it in many home remedies for colds. It is considered ok in small amounts for its nutritional benefits, but is not necessarily recommended to use as your primary sweetener.
Coconut Sugar. This is another higher glycemic sweetener ok-ed by Pearl and Serene (page 109 of the Plan book). But like honey it is not recommended to use as your primary sweetener. It offers more of a brown sugar flavor.
Blackstrap Molasses. This sweetener is not specifically addressed in the book, but it is used in quite a few on-plan recipes. It gives a brown sugar flavor to your recipes. Blackstrap has the lowest glycemic index of the different types of molasses and generally a single teaspoon will do for an entire multi-serve recipe.
I hope this information is helpful to you and allows you to weigh your options when it comes to sweeteners on the Trim Healthy Mama plan. Remember these are simply guidelines. You will have to tweak any sweetener to fit your personal tastes. If you have any questions, I can try to answer them here, or you can ask for help in the wonderful Trim Healthy Mama facebook group!
PS. Don't forget to visit my baking post, where you can find links to recipes for baking blends, chocolate chips, sweetened condensed milk and more!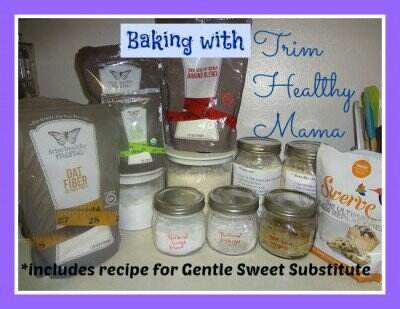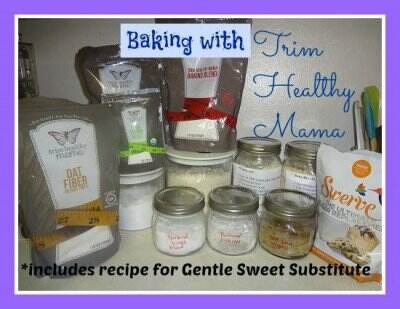 Save
Save
Save
Save
Save