Stevia Select Honest H2O Drops and Fruit Punch "Good Girl Moonshine"
I received a bottle of Honest H2O for my honest review. All opinions are my own. Affiliate links are included and do not affect your cost in any way, should you choose to purchase through my link.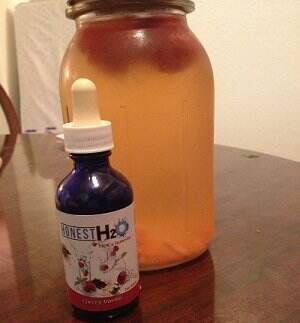 Since I've been trying to do more sugar free and low carb eating, I've found one brand of stevia that I like better than most others. It's called Stevia Select and it has quickly become one of my favorite brands.

Imagine my excitement when I discovered Stevia Select also had drink flavorings. I was eager to try them out and they sent me one to try. The flavor I received was cherry vanilla, which is one of my favorite flavor combos when it comes to drinks.
As soon as I received it, I was ready to try it. So I put it in my water. And added a little more. And a little more. I never did get it to where I really liked it in plain water. I tried it in sparkly water. Same thing. I didn't really love it as is.
But–I figured out that I actually do like it as part of my Fruit Punch "Good Girl Moonshine." For those who are not familiar with that term, the original Good Girl Moonshine is a detoxifying, health promoting drink from Trim Healthy Mama. This is a fruitier, slightly sweeter variation of that, which is so far my favorite way to drink it. Not familiar with the Trim Healthy Mama plan? Read about it here.

Fruit Punch Good Girl Moonshine
*Instead of the water drops you can add 1/2 tsp cherry extract and double the stevia powder (for a total of 1/8 tsp stevia powder) Also, replace the strawberries with 1/2 tsp strawberry extract, or omit altogether if you prefer.*
In a quart jar mix together:

2 TBSP Raw Apple Cider Vinegar (with the mother)

1 tsp fresh grated ginger or 2 TBSP ginger juice

1 tsp Stevia Select cherry vanilla

1/2 tsp each of pineapple and orange extracts (I like to get my extracts from Olive Nation)

1/16 tsp (or to taste) Stevia Select powder

Fill the rest of the jar with water and ice and add 3 frozen strawberries. Let sit in fridge to let the strawberries release some juice. Don't actually eat the strawberries outside of a snack or meal.

I would still be interested in trying the other H2O flavors. And of course I would like to try their flavored liquid stevias (which are different from the H2O flavors. Just looking at their product page is enough to get your imagination going! You can also find their products on Amazon. 
Which Honest H2O flavor would you most like to try?