Cilantro Lime Chicken Breast (THM FP)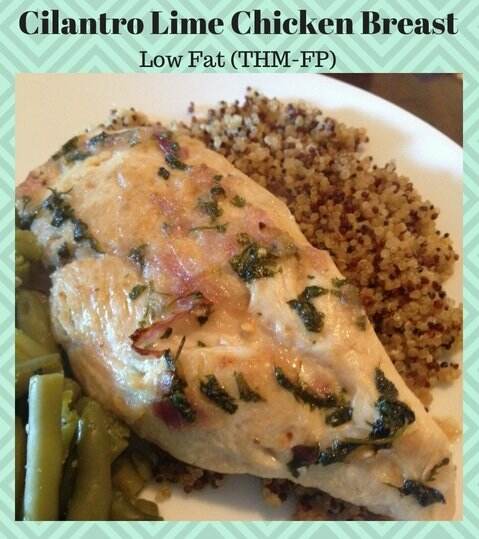 Repin this recipe for later!
If you are following Trim Healthy Mama and have a hard time finding good E meals, you should give this one a try. Actually, the chicken itself is a Fuel Pull as is, and can be made an E by adding brown rice or quinoa, which is what I did, or an S by adding a couple TBSP of cream. Even if you are not following Trim Healthy Mama, this is a tasty, low fat dish that goes great with rice!
This dish could easily doubled, but this was just right for my family of 2 adults and 3 small children (ages 1-5). This recipe is for 2 boneless skinless chicken breasts.
2 skinless, boneless chicken breasts, cut in half "butterfly" style, to make 4 pieces
1 TBSP, plus 1 tsp butter
1/2 cup chicken broth
2 tsp lime juice
3 TBSP chopped red onion (or whatever onion you have on hand)
3 TBSP finely chopped cilantro
pinch red pepper flakes
generous pinch of salt
pinch of pepper
1/8 tsp gluccomannan
Melt 1 TBSP butter in a skillet on medium-high heat and cook the breast pieces about 6-7 minutes on each side to sear them. They should be a light crusty brown on the outside. Then place them in 9×9 baking dish. You want them to be close together, but not overlapping.

Add the onion, chicken broth, lime juice, cilantro, tsp of butter and seasonings to the skillet, cook about 5 minutes and sprinkle on the glucomannan. Cook about 5 minutes more, until it starts to thicken slightly, then pour the mixture on the chicken breasts.

Bake at 375 degrees about 30-40 minutes, until fully cooked. For a nice E serve with rice or quinoa and veggies of your choice.
For an S add a couple TBSP cream instead of gluccie and serve with non-starchy veggies. I think this works better as an E though.