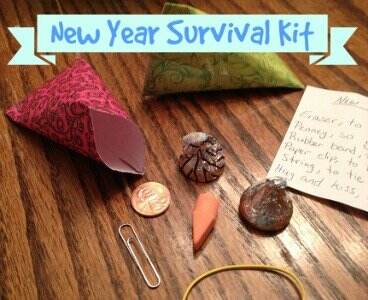 Now that Christmas is over, it's time to start thinking about New Years! And since New Year's Eve parties are kind of a big thing, I thought I'd share the favors I did for my mom's New Year's party one year.
I call it the "New Year Suvival Kit" and everybody thought it was a cute idea. Or at least they said they did. Is it a little cheesy? Perhaps. But we're all for fun and different around here.
To make the little boxes, you'll want some pretty scrapbook paper or something similar, cut into 3″x4″ rectangles. Make a tube, using the longer side for the circumference.

Pinch the edge together and tape it. Fill the tube with the goodies and tape the other opening the opposite direction.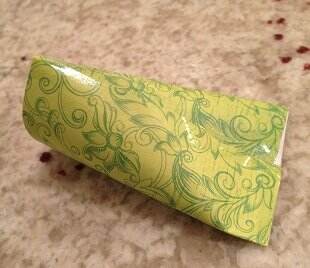 Make a list of the things in each box and what they're for.
Here is what I put into each box, and what they represent:
Eraser, to erase mistakes
A penny, so you'll never be broke.
Rubber Band, to help you stretch your limits.
Paper Clip, to help you keep it together.
String, to tie together loose ends.
Hug and Kiss, in case you ever need one!
Like I said, a cute idea with a clever play on words. It's not very expensive to make either. You could also purchase small boxes instead of making them, but I thought these were cute!