Sugar Free Chocolate Milk Mix
This post contains affiliate links for the sake of convenience. Your price is not impacted in any way.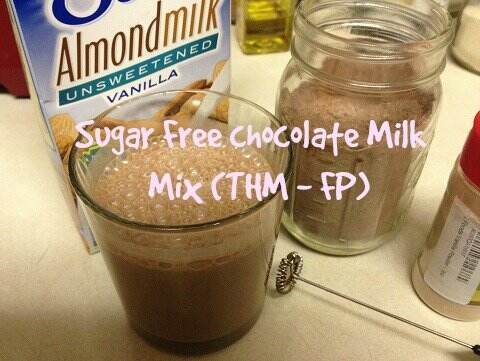 Pin this recipe for later!
Who loves chocolate milk? I know I do! It's like a staple for me. I like to use it to take my vitamins. To me, it's so much smoother than plain water. So, a certain chocolate milk mix was always in my cabinet.
But if you're following the Trim Healthy Mama plan (like I'm trying to), that sugary brand is a no no and, for that matter, so is the dairy milk I was drinking it in.
But I had to find an alternative. So I started dabbling to get the right combo. A tablespoon of this. A teaspoon of that. I finally found the combo I liked and multiplied it to make my own ready-to-go chocolate milk mix, so I don't have to measure everything every time.
I should note there is a chocolate milk mix in the Trim Healthy Mama cookbook. This is a little different and based on ratios I was using before the cookbook was released. This is a little lighter on the chocolate and has a hint of vanilla. It is a fuel pull on Trim Healthy Mama and has 5 grams of protein in a serving.
Sugar Free Chocolate Milk Mix
3/4 cup plain whey protein (I use THM Pristine Whey, found in the THM store)
1/4 cup cocoa powder (I use Rodelle)
1/2 cup Gentle Sweet blend (I actually make my own version)
1 TBSP vanilla powder
1 TBSP sunflower lecithin (optional, but helps it mix better)
Mix the ingredients together and store in a pint sized jar. Use 2-3 TBSP of the mix for one cup of milk. I use unsweetened almond milk. For best results, use a milk frother to get the powder fully blended.
I've seen recipes where they say use a blender. I want quick and easy for my chocolate milk! A milk frother is much simpler and does just as well. And less mess. 
I really feel like this is as close as I'm going to get and stay on plan! It really is quite good. Any more cocoa and it would be too much for my taste. But hey, everyone's different.It looks similar to that other chocolate milk powder.

It also makes great hot chocolate. Add a TBSP of cream for a little extra richness. But then it would be an S. I also like to add 1/2 tsp of peppermint, caramel or vanilla extract!

I hope you'll give it a try and let me know what you think!