Do I Need the New Trim Healthy Mama Books?
 This post does contain affiliate links for the sake of convenience. This does not affect your price in any way, if you do decide to purchase.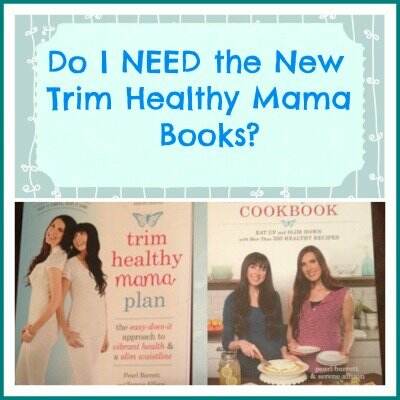 Have you been following the Trim Healthy Mama plan, or at least considering it? If you are familiar with the plan at all, you probably know that Pearl and Serene (the sisters behind Trim Healthy Mama) released two new books this past fall. By, the way, if you haven't heard of the plan before, you can read my previous post about the plan for more info on the plan itself. Anyhow, the question I have seen asked a lot is if you need to get the new books.
The answer is no. You don't need them. However, I do highly recommend them, if your budget allows. If you are completely new and are deciding between the original book and the new books, my advice is to go for the two new books. The price of the two new books combined comes out to about the same as the original book by itself.
If you have no book and no money to get one, you can can still get started with the basics. You may be able to borrow the book from the library. This is how I first read the original book. Some libraries are even carrying the new books. If your local library doesn't have it, ask about inter-library loan, or if you can request that the library purchase the book. If you are on facebook, and truly cannot afford a book you can even join the THM Pay it Forward group and request a book. There is a long backlog of requests, however, and demand is much greater than supply at this time.
By the way, you can preview quite a few pages of recipes and information from the cookbook, even before you buy. Just click on the picture of the book on this page. Also, I have compiled a huge list of recipes similar to those in the cookbook.

Until you are able to get access to the actual book, get started with this basic info:
Cut out "white" foods (potatoes, rice, refined flour and sugar) and replace sugar with natural sweeteners like stevia, erythritol and Xylitol. Brands like Pyure and Truvia are popular stevia blends and can be found in many grocery stores.
Eat every 3-4 hours. "E" (carb based) meals allow 20-45 net carbs (carbs minus fiber) and no more than 5 grams fat. "S" (fat based) meals allow up to 10 net carbs, with no limit on fat. Fuel pull is limited to 5 g fat and 10 net carbs. Crossovers are when you go over both those limits. You'll want to limit these is attempting weight loss, but they are not prohibited.
Join the Trim Healthy Mama facebook group and check the "files" section for a huge load of info. Ask questions in the group itself if you need help. There are over 100,000 members (including one of the authors!), so someone is bound to know the answer, and the ladies there are wonderfully knowledgeable and supportive!
Check out Gwen's Quick Start Guide for an even more in-depth guide, and some resources to help you navigate the plan.

If you have, or have read, the original book and feel like you have a good grasp of the plan, you will probably be fine without the new Trim Healthy Mama Plan book. If you have read the original book and still have trouble grasping the info, I will say the new book is better laid out and easier to understand.
Each meal type has its own chapter, and then there are chapters targeted toward certain "types" of women (pregnant moms, slow losers, those with allergies, etc.) There is even a chapter on men.
The original book was much more conversational, which can be a plus or minus, depending on your reading style. If you're just looking for information, all the "extra" can be frustrating. But their humor and personality still comes out in the new plan book.
Things that are missing from the new plan book that you may miss are Serene and Pearl's background stories and the section on *ahem* intimacy.
Now, if you can swing it, I do recommend the Trim Healthy Mama Cookbook. This is where I saw a huge improvement over the original. If you have read the original book, you know the recipes were not written in a traditional recipe format. I personally found that frustrating, and was a little wary that the new cookbook would be the same way. It's not!

The cookbook is full of beautiful pictures and info. Also, the recipes read like a typical recipe book, where it tells you how much of each ingredient you'll need, followed by instructions.
Unlike the original book where is listed the ingredients, but you didn't see the necessary amounts until reading the instructions. I personally found that annoying, because I like to know how much I need of everything before I read instructions. Thankfully, the new cookbook has fixed this!
Even more than the recipes for meals and desserts, I really liked seeing recipes for hings like chocolate sauce, marshmallows and crackers. I haven't tried many of them yet, but I definitely plan to in the near future.
That said, you don't need the cookbook either. There are many free recipes online, on Pinterest and even the files in the main facebook group.
One complaint I have seen about the cookbook is that "so many" of the recipes require special ingredients. "Special ingredients" are items that can't be bought in your typical grocery store. You must go to a natural food store or online to find them.
The majority of recipes overall to not require special ingredients. However, there are a fair number of dessert and baked goods recipes that call for Baking Blend and Gentle Sweet which can be purchased on the Trim Healthy Mama online store. And the desserts are what have everybody drooling. So I understand the frustration of purchasing a book, finding the most appealing recipe and realizing you don't have all the ingredients.
There are quite a few dessert recipes that don't require Baking Blend, and you can use locally purchased sweeteners (Truvia and Pyure are popular options) in these. But I just wanted to offer that word of caution in case you purchased a book only to find yourself in a position of frustration! By the way, if you want to make your own Baking Blend, check out my post on Baking with Trim Healthy Mama for links to a lot of recipes. I believe there are a couple with "no special ingredients" as well.
 I know this post has been a little long, but I just hope that it has helped to answer questions you might have had about the books. And if you have any more specific questions, let me know and I'll see if I have the answer!
P.S. Don't forget to check out my Trim Healthy Mama recipes!