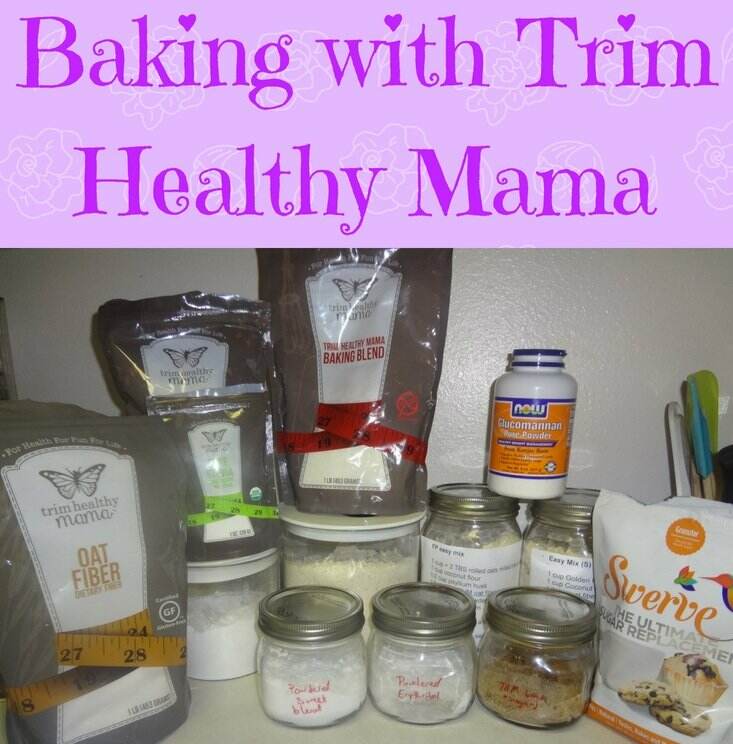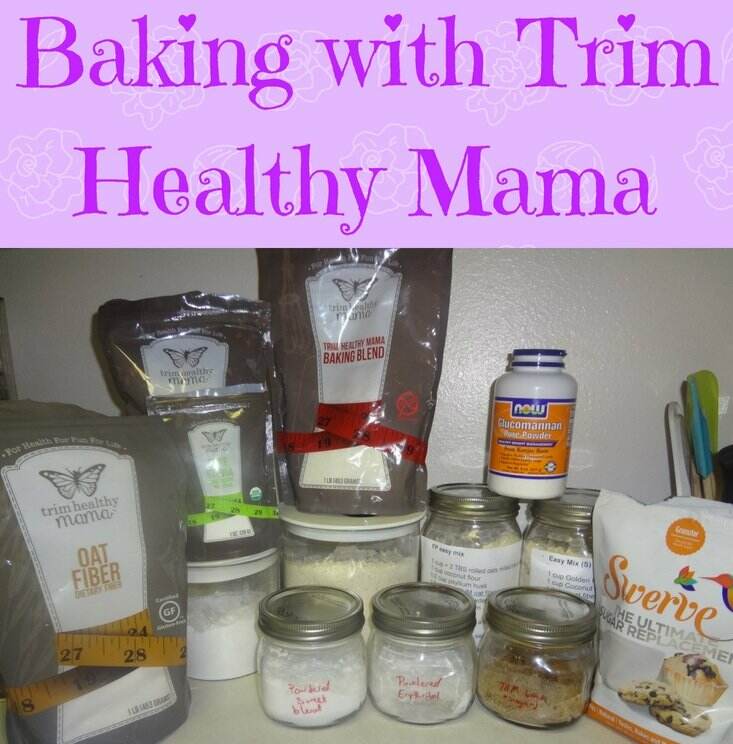 Repin this post for later!
Are you on the Trim, Healthy Mama plan? If you have no idea what I'm talking about, please take a look at this introduction. If you are new to the plan, or simply considering the plan, you may be confused and overwhelmed by the different flours, sweeteners, etc that you see many THM recipes call for.
If you are an avid baker like me, you may be struggling with replacing good old all-purpose flour and sugar with healthier alternatives. So I decided to put together a little round-up featuring different baking blends and helps. Plus, I added my own substitute for Gentle Sweet, which is my new go-to for dessert making. 🙂

On Plan Flours and Baking Blends

Oat Fiber-Oat fiber is a favorite on Trim Healthy Mama, because it is pure fiber. It helps give volume and texture, but adds no calories. However, it is pretty bland on its own, so you'll usually want to blend with other flours for best results. Do not confuse oat fiber with oat bran or oat flour. I could not find this at my Natural Grocers–they didn't even know what I was talking about. One of the best places I know to get it is Swanson Health Products, which has a lot of the Trim Healthy Mama brand products available. Their flat rate shipping is cheaper than the THM website.

Coconut flour-Coconut flour is high in fat and fiber, but less goes further. When replacing other flours, you use 1/3 as much coconut flour and add an egg. I find coconut flour to be one of the least expensive on-plan flours, usually running about $4/lb. You can find it at many grocery stores now, and even Sam's Club. If you can't find it there, you can get it on Amazon.
Almond flour-Almond flour is dense and best used in combination with other flours. Can almond flour and almond meal be used interchangably? That depends. They are not the same, but if texture is not super important, you can use meal. Things made with almond meal will be denser and meal still contains the outer husk and (eek!) phytates. So I try to go with actual flour. Almond flour is probably the most expensive on-plan flour. Wellbee's is probably the most fine, but not the cheapest.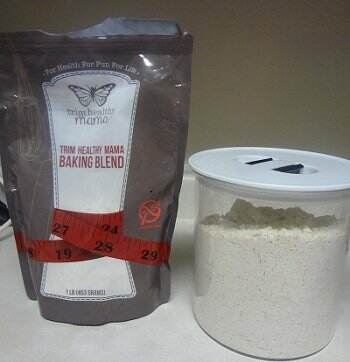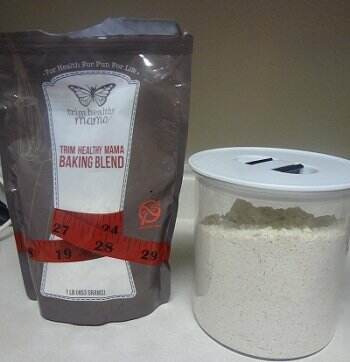 On Plan Baking Blends
THM Baking Blend-This low fat, high fiber baking wonder has been constantly out of stock on the Trim Healthy Mama website. But, they are moving to a new supplier and expect to have more by the end of the month.
Meanwhile, if you want to make your own, there are many alternatives out there.
Sherri's gluten free baking mix does not have the protein powder or hydrolyzed collagen, so it uses less ingredients. This blend from RunAmok Mama has similar stats to the THM blend, but it uses several different ingredients. Nili's Baking Mix, from Crissy Benoit in Love is the one I personally use. Briana Thomas offers a nut free baking blend recipe.

Mercy and Gratitude shares alternatives and comparisons of three different blends. The first and second would have to be under S instead of fuel pull, but there is an option for economical, which has no almond flour, and therefore cheaper, and local, which means you should be able to find the ingredients in your regular grocery store.
A few others: Low Carb Baking Mix (higher in fat), FP Easy Mix and S Easy Mix from Reye's Place.
On Plan Sweeteners
Erythritol-This is a sugar alcohol and is a by-product of corn. It does not raise blood sugar and is not absorbed by the bloodstream. It is about 70% as sweet as sugar. Downside: It can leave a "cool" feeling in your mouth which some people dislike. It doesn't bother me like it does my husband.
Xylitol: This is another sugar alcohol that does have a (very) small impact on blood sugar, but is still ok on the plan. It is about the same sweetness as sugar and probably tastes the closest, BUT it is not for everyone.
Downside: Some people report mild to severe discomfort in their digestive system when consuming xylitol. Xylitol made from birch is said to be gentler on the tummy that that made from corn. Also, xylitol is known to be toxic to dogs. So please tread carefully with this sweetener.
Stevia: Stevia is gaining popularity in the natural food world and if you have a good, pure stevia powder, a little goes a long way. It is best mixed with other sweeteners. Downside: It tends to leave a bit of a weird aftertaste if you use too much. Also, it can be difficult to find a good stevia powder, as many have added fillers or are more bitter than others. Besides the THM stevia, available in their store, I sometimes use Stevia Select. By the way, Stevia Select also has a liquid stevia, which Trim Healthy Mama does not have (yet). I finally got to try it and just want to say it's what I'll be getting from now on! They also have flavored liquids, but I haven't tried those yet. What Trim Healthy Mama does have, however, is a 4 oz bag of stevia. I know, it's only 1/4 of a pound, but it will last you quite a while. Even with shipping, it comes out to the best deal.

"Sugar-free" Brown Sugar-This recipe from Gwen's Nest technically has a tiny amount of sugar, but it is plan approved. I like to use 1/2 xylitol (if you can have it) and 1/2 erythritol for this, and a couple drops of maple flavoring. If you just use erythritol, you might get the "cool" taste we don't like. This brown sweet mix from Around the Family Table is a little more potent, and measures about 1/3 cup in place of 1 cup brown sugar. The recipe written as is makes a lot.

Sweet Blend (now called Super Sweet)-This erythritol/stevia combo is available in the THM store and it is also super easy to make your own.
Gentle Sweet–This is one of the latest products that has taking the Trim Healthy Mama world by storm and people with complaints about other plan-approved sweeteners have been pleased with this. This blend minimizes the cooling effect or erythritol, the bitterness of stevia and the digestive issues of xylitol. Please note, however, this is still toxic to dogs!
Gentle Sweet Substitute–Many have asked for a homemade gentle sweet recipe, mainly because they already have all the ingredients. Another reason some would desire an alternative, is because the THM xylitol is made from corn, and xylitol from birch is said to be gentler on the tummy. And because I like to buy my erythritol and birch xylitol in bulk, I like to make my own blend.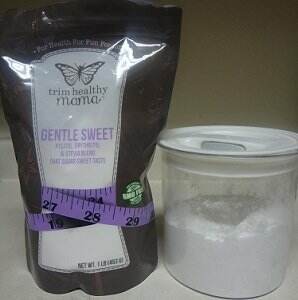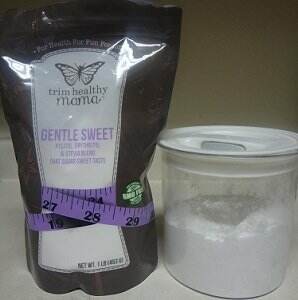 I won't say this is exactly the same, but I've used it with success in many recipes and even my erythritol-hating husband has no issues with this blend and agreed the cooling effect was minimal.  And it is as easy as this:
Place 3/4 cup erythritol and 3/4 cup xylitol in a blender, then add 1/2 tsp pure stevia powder and blend about a minute. Allow to settle, then pour into a jar or bag. You may need to break up clumps later, as xylitol tends to clump up with a small amount of moisture.
Note: While the above recipe still works, I found I needed to increase the sweetness just a bit, so I now use 1 cup erythritol and 1 cup xylitol and 3/4 tsp pure stevia. You can read about my updated recipe, as well as options for making homemade Gentle Sweet with in-store sweeteners and stevia free sweet blends in my post exclusively on Trim Healthy Mama sweeteners.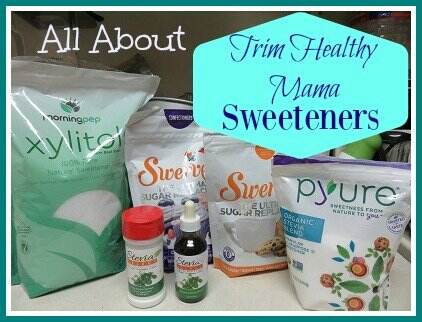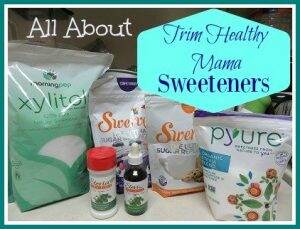 Monk fruit extract and chicory root (inulin) are also acceptable sweeteners, though they are not given as much attention as the other three, and are not used in the Trim Healthy Mama recipes. Beware of monkfruit with malodextrin, like Monkfruit in the Raw. Lakanto Monkfruit Sweetener contains only monk fruit and erythritol, so it would be acceptable on plan. If you want to try chicory root, Just Like Sugar has pretty good reviews, though it is pricey. Probably why it is mentioned less than the others.
Other popular, on-plan sweeteners are Swerve, Pyure and Truvia. These are easier to find in your grocery store, but everyone has a a different preference of what they prefer. Swerve is stevia free, and Pyure and Truvia are stevia/erythritol combinations. If you find yourself extremely sensitive to sugar alcohols and are bothered even by erythritol, you might consider a sweetener called Trio Sweet that is made up of stevia, monk fruit and chicory root fiber, which are still on plan. Use 1/2 the amount as you would sugar, which is similar to Gentle Sweet.

Baking Extras!
Here are a few more baking aids to help you on your journey to Trim Healthy baking success!
Sweetened condensed milk-Counting All Joy shows how easy it is to make dairy-free sweetened condensed milk in the crockpot! If you don't need dairy free Joy Filled Eats has a recipe for on-plan sweetened condensed milk. My Montana Kitchen has a recipe for sugar free sweetened condensed milk that also looks good.

Corn Syrup-She Calls Me Hobbit shows how to make sugar free light or dark "corn" syrup. You will need to adjust sweetener according to what you use.
Cocoa Powder-For any good baker, unsweetened cocoa powder is almost a necessity. Now, I'm currently working my way through a bulk container of Hershey's, but I have heard many THM's say Ghirardelli is the best and can make all the difference, so that's what I'll be getting next!
Chocolate Chips–Lily's brand is my favorite on-plan chocolate chips, but they can be pricey. The price at  Amazon varies alot. Sometimes it's as low as $8, sometimes as high as $13. I can find them for around $7 at Natural Grocers. If you have not signed up for Thrive Marketplace, they are around $5.50/bag there. They have a 30-day free trial, but then it's $60/year. Your choice if you want to try signing up then canceling if you decide the membership is not for you.
Update: Trim Healthy Mama has released their own brand of Trim Healthy chocolate chips.

Some mamas use the Hershey's Sugar Free chips as they are much cheaper than Lily's, but they are not technically on plan because they contain maltitol. Another inexpensive option is to make your own baking chips. Consider these Stevia Sweetened Chocolate Chips by Wonderfully Made and Dearly Loved. She also has recipes for White Chocolate Chips and Peanut Butter Chocolate Chips.
Sprinkles-Sometimes you need sprinkles to add a little fun to your creations! You can purchase these sugar free sprinkles from Amazon. Or see how to make sugar free sprinkles at Bubbly Nature Creations!
Caramel Sauce-Check out the Trim Healthy Mama page for a great caramel sauce recipe that you can drizzle on your baked goods! Update: Here's a similar, but slightly improved caramel sauce.
Natur
al Food Coloring-People on THM will vary in how important "natural" food colorings are to them, as they can be pricey. But I have seen India Tree coloring recommended by those choosing to use all natural. This basic set includes the primary colors, which of course can be mixed to make other colors!
Flavorings/extracts: I prefer to get my extracts from Olive Nation because they don't contain the propylene glycol that is in conventional extracts. Update: As of spring of 2019, Trim Healthy Mama now carries 12 flavors of extracts. Unfortunately, as they are relatively new, they are having trouble keeping up with demand!
I also found this really cute set of mini measuring spoons, used for volumes less than 1/2 a tsp! They are especially great for measuring things like stevia and there is a "doonk" sized one as well!
If you prefer prepackaged baking mixes, make sure you check out my post on Packaged Foods that can be used on Trim Healthy Mama!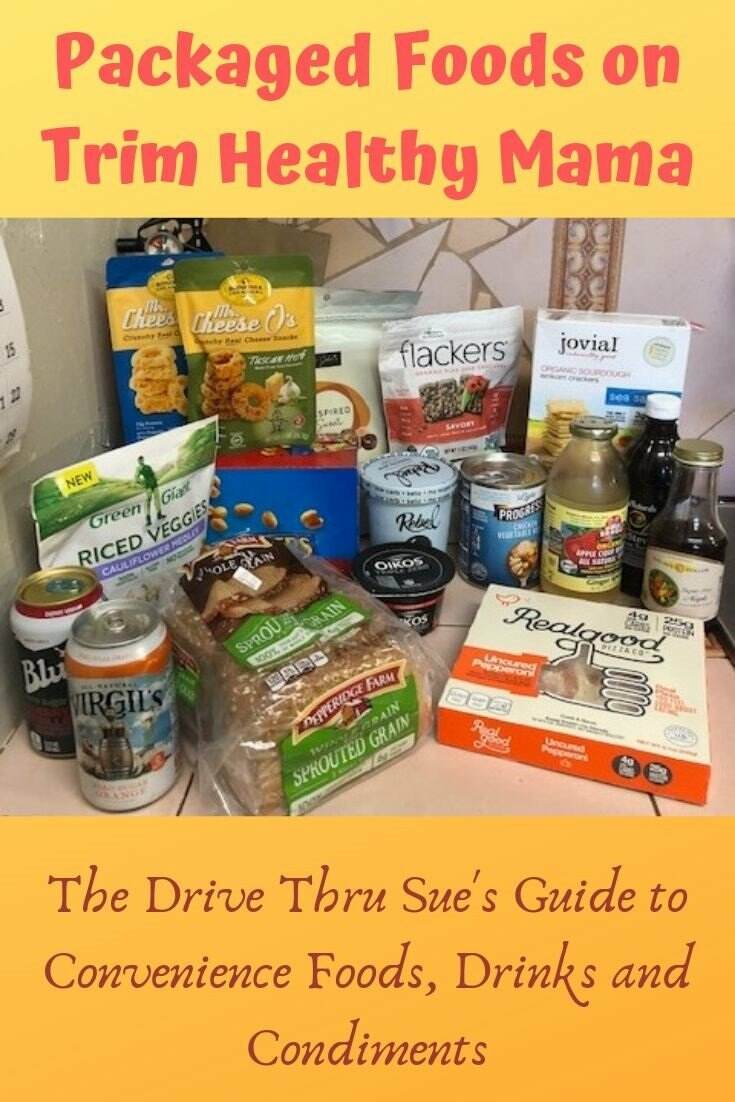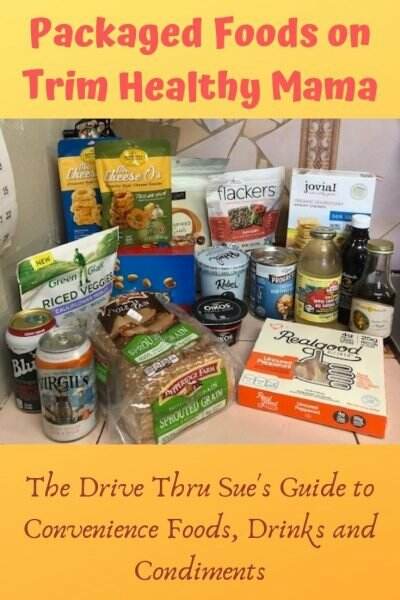 If I think of more things to add I will be sure to update. And if you have any suggestions, please do let me know!
You can find many of my recommended Trim Healthy Mama friendly baking products here on Amazon!
Save
Save