Gluten Free Beef Stroganoff
*This post contains affiliate links, meaning I may get a tiny percentage when you buy from my link.*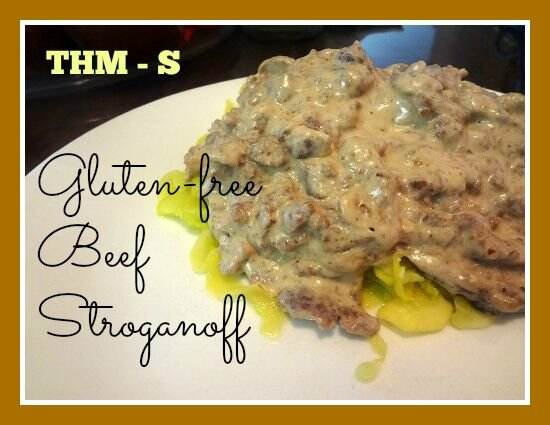 I love beef stroganoff, but the kind I grew up with uses cream of mushroom soup. Since I have been trying to follow the Trim Healthy Mama plan, I try not to use "cream of" soups anymore because of off-plan ingredients.
If you are familiar with Trim Healthy Mama, you probably know what "S" and "E" meals are. If you are not familiar with the plan, you can learn some of the basics here.
I know there is an "E" version of beef stroganoff around, that is served on top of rice. But I prefer mine to be more creamy, so my version would be an "S" that can be served on squash noodles or Dreamfields pasta, if you have to have actual pasta. I prefer the squash noodles, since I get more veggies in that way!
My secret to replacing the cream of mushroom soup is cream cheese and beef broth. By the way, you can do the same with cream cheese and chicken broth to replace cream of chicken. But the result is creamy and delicious beef stroganoff! And, pretty close to the classic I grew up with.

Ingredients:
1 lb ground beef
4 oz of cream cheese
1 1/2-2 cups beef broth (depending how thick you like it)
2 cloves garlic, finely chopped
4-8 oz chopped fresh mushrooms
1/2 cup plain Greek yogurt
1 teaspoon gluccomananan
Squash noodles or Dreamfield's pasta for serving
 First, brown the ground beef. While the beef is browning is a good time to spiralize your squash and chop up your mushrooms and garlic. It should take about 10 minutes. If you are using higher fat beef, drain and return to the skillet.
Add the mushrooms and garlic and saute with the ground beef about 5  minutes, until the mushrooms soften a bit. You can use a whole 8oz package of mushrooms, or just half, depending on what you like.
Add the cream cheese and beef broth. I placed my cream cheese in chunks and added the broth. 1 1/2 cups will make it thicker, 2 cups will make the sauce thinner. Keep in mind it will also thicken a little as it cools.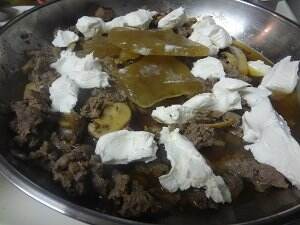 Start preparing your noodles. If you're using squash noodles, saute them with butter, or you can try steaming them. If you are using Dreamfield's, you should be adding the noodles to boiling water about now.
Meanwhile, your sauce should be cooking for another 10 minutes, or until the sauce is almost to the desired thickness. Add the gluccie, then add the yogurt at the end.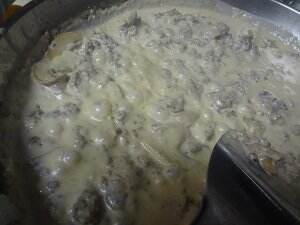 Add the sauce to your noodles and enjoy!
Save
Save
Save
Save