BBQ Beans–Trim Healthy Mama Style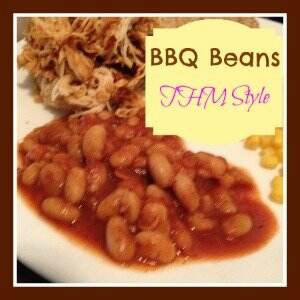 Pin this recipe for later!
So, I made the wipe your Mouth BBQ from the Trim Healthy Mama cookbook. Since it's an E meal and bbq, I decided I wanted to try my hand at bbq beans, THM style. They turned out alright, so I figured I'd share.
*Affiliate links may be included in this post. Please see full disclosure policy here.
These beans are not super syrupy liked the canned variety, but if you've been avoiding sugar, these will do. I made mine in a small crock pot to help the flavors blend, but you could try baking if you prefer.
I also used some center cut bacon, since it's the least fatty. There are 7 fat grams in the whole recipe and about 7 servings in the recipe, so it only equates to about 1 g fat per serving. But if that still bothers you, you can leave it out.
By, the way, this is an E on Trim Healthy Mama!
Ingredients for BBQ Beans:
2 15 oz can of northern beans
1 15 oz can tomato sauce
1/3 cup water
1/2 tsp mustard
2 TBSP Gentle Sweet (or my DIY version)

1/2 tsp blackstrap molasses
1/4 tsp liquid smoke (optional, but gives a smokier flavor)
1 1/2 tsp paprika
1/8 tsp maple flavor
1/3 cup finely chopped onion
4 slices center cut bacon
Cook the bacon slices and let them drain on a paper towel. Drain any extra grease out of the pan and cook the onions. When the bacon is cooled, crumble it into as small pieces as possible.
Place all ingredients into a crock pot, stir and cook on high for 4-5 hours.
Alternatively, you could use a store bought sauce with on plan ingredients to replace everything except the onion, bacon and beans. You could probably get away with 1 cup of sauce, but it would definitely be more expensive. The sauces I know of are Stevia Sweet BBQ Sauce, AlternaSweets Sweet & Smokey BBQ Sauce, and Simple Girl BBQ Sauces. The only one I've tried is AlternaSweets and it is a little on the sweet side and quite thick, so if you use it in this recipe, you'd still want to add the water.
For the recipe for Wipe Your Mouth BBQ chicken, check out the Trim Healthy Mama cookbook. Lots of wonderful recipes in there!